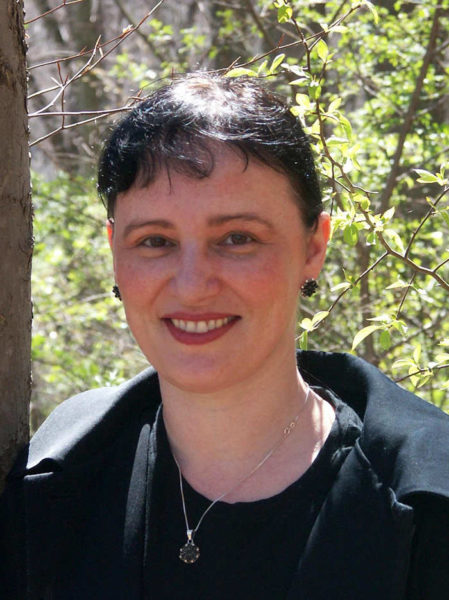 Anna Kashina writes historical adventure fantasy, featuring exotic settings, martial arts, assassins, and elements of romance. Her "Majat Code" series, published by Angry Robot Books, UK, received two Prism Awards in 2015. She is a Russian by origin, and a scientist in her day job, and she freely draws on these backgrounds in her writing. She lives near Philadelphia, Pennsylvania.
Do you have tips on choosing titles and covers?
This is all up to the publisher. But my publisher, Angry Robot Books, have been nice enough to involve me in the process every time, and it has been so much fun. I also learned a lot, so I would be glad to share these tips.
Both title and cover are marketing tools, and their job is not only to be catchy, but also to target the book to the right audiences.
I have a good example about one of my book titles — my first Angry Robot publication, "Blades of the Old Empire". This book was originally written and marketed to the publisher under the title "The Black Diamond". I believed this title to be catchy, and it did reflect a major plot line in the book, so I felt it to be a perfect fit. But, after the manuscript acceptance, my publisher pointed out that this title, while catchy, is much too generic. It doesn't tell the audience anything about the genre, and could equally apply, e.g., to a thriller about modern-day jewel thieves, a mystery, or a fantasy. We brainstormed and came up with "Blades of the Old Empire", which has a nice ring to it and puts the readers into exactly the right place. I tried to hit this note with the next book in the series – originally written as "Shadow Master", but changed to "The Guild of Assassins" – which is, again, a much better fit.
My current novel, "Shadowblade", was named with all these things in mind, and I believe it does a good job of reflecting the book and targeting the fans of the genre. It is an adventure fantasy about blademasters, with elements of romance. The publisher liked the title, which told me that I may have finally started getting the hang of it.
The cover, in a way, serves a similar purpose, but entirely by visual means. It needs to catch the readers' attention, while also conveying the information about the genre and style. For a character-driven book in a wide range of genres, I believe one could never go wrong with depicting a person that at least loosely matches the description of the main character of the book – correctly dressed, in an appropriate setting — looking directly at the viewer. There are many successful covers that don't do that, but I think this approach never really fails. Alternatively, a cover could feature and item, or a design, that would place the reader in the correct setting, e.g., an elaborate magical object for a fantasy. Romance covers have a completely different set of rules, and often emphasize bodies rather than faces. Mainstream fiction often has word-based designs rather than elaborate images. A lot of works goes into this instant first impression, where a reader can just glance at a book in a store and make a split second decision to pick it up.
Since most readers these days shop online, it is important to choose an image that also looks catchy at thumbnail size on, say, a smartphone screen. I have seen many nice images that look strange at this small size, and thus unsuitable for a cover.
Finally, since many e-readers are black and white, the cover should also look attractive and legible on a black-and-white screen. For this reason, I believe, people normally avoid red letters, which tend to blend into the image in black and white. So, for anyone choosing their own cover, it is a good idea to print a small black-and-white version and see how it looks.
How do bad reviews and negative feedback affect you and how do you deal with them?
Oh, this is a tough one. I can't deny that it hurts to see a scalding review, whether it is from a reader or a professional review venue. Sometimes it takes me days to put something like this behind me. I do, however, always feel grateful for the fact that someone out there has taken the time to read my book and write about it.
I heard from prominent authors that sometimes negative reviews sell more books than positive ones. In my case, it happened more than once that a particularly demeaning review of someone else's work has made me curious about the book in question – and I ended up loving the book when I picked it up. Something that can generate strong opinions, positive or negative, cannot possibly be ordinary. Negative attention is definitely better than no attention at all.
In the end, the ability to take criticism – and learn from it, when needed – is part of being professional as an author. I tend to worry when everyone is saying only positive things about my books. Each book has its own fan base, and its own set of people who just feel it's not for them, as well as all the shades in between. It feels rewarding to discover those like-minded people who loved my books for all the right reasons. It wouldn't feel as rewarding, I believe, if it didn't come with the opposite kind.
And yes, there is always that one reviewer who can find an especially hurtful thing to say. In these cases, I sometimes look up negative reviews for great all-time classics. For example, Harry Potter came out with a big share of those, and it did not hurt the sales in the least. Some authors tend to just ignore reviews altogether. I guess everyone has to go through this grinder, though, and find their own balance with it.
How has your creation process improved over time?
I used to write novel chapters out of sequence. Every time I felt inspired, I would sit down and write a scene, and then, when most of them are finished, I would sit down and arrange them into the final story, filling in the gaps. This process was enjoyable but erratic. It took a lot of time, and led to many plot holes and more work in the end.
These days, I often write on deadlines and am generally expected to finish my novels on a regular basis. With this, I found it much more useful to write the story in sequence. I also found that I don't actually need to feel inspired before I sit down to write. I set aside a time slot, and then I just sit down and write on, following the story line. By setting myself goals and completing them to a regular basis, I can push through the whole story in a reasonable amount of time. When I have a full first draft, I come back and edit, which tends to be much easier, even if the text is very raw.
When I started doing it this way, I was convinced that this would never work. But I found that not only does this make the writing process more organized, the scenes I write, even when I don't feel them to be working at the moment, end up being better than before. Maybe I have just gotten more professional, but I do believe that this new streamlined process ultimately makes for a better piece of fiction in the end. I never feel tempted to go back to my old erratic style.

What were the best, worst and most surprising things you encountered during the entire process of completing your book(s)?
My best, worst, and most surprising are always my characters . I guess this is because they are not only alive in my head, but tend to be like children, who never cease to amaze us, but at times can also be disappointing or upsetting.
I can't even begin to work on a coherent version of a novel until my characters are fully worked out and feel like real people to me. As soon as I achieve this state, when I start writing about them, they start acting on their own. At my best times, I start writing a scene with only a general plan in my head, and no idea what they are actually going to do. This is especially fun with dialogues, where my characters can unexpectedly act out, or say funny and surprising things.
Spending time with my characters this way is my most enjoyable aspect of writing. Working on a novel, I never feel alone. I guess this is also while I enjoy fantasy as a genre – the possibilities are boundless in a world filled with magic, so I get to face my favorite people with impossible challenges and see what they do.
My worst, I guess, is to see my character do something unexpectedly bad, and then write my way out of it. For example, in "Shadowblade", the main character, Naia, ends up in a really bad fight I did not plan for, and didn't believe to be a good idea for her. It took me a while to figure out that the fight is unavoidable in her case, and another while to figure out a graceful way to resolve the situation. Through all this, I felt amazed to see how this episode enhanced both the character and the story.
When I work on a novel, I live in it, I dream about the world at night, and spend a lot of time working things out in my head, even when I don't actually write them down. It is a process full of enjoyment – and frustrations – and is ultimately very rewarding.

Do you tend towards personal satisfaction or aim to serve your readers? Do you balance the two and how?
I believe any author's ambition is, first and foremost, to write the best possible book they would like to read themselves. This is certainly what drives me. I do, however, spend a lot of time to make sure an unbiased reader can be engaged by it as much as I am. The real magic happens when my books find their like-minded audience, people who enjoy the same books as I do, and really get what I was going for.
What are your plans for future books?
I am currently working on a contemporary sci-fi/fantasy crossover, where the main character is a present- day biomedical scientist with expertise similar to mine. It is an ambitious project and a completely new venture for me, a departure from my usual historical settings (even though I still believe it would appeal to my reader base, and it does have some superb fighters and elements of romance). Working on this book feels unexpectedly challenging – mostly because I know so much about the science behind the story that this knowledge tends to constrain me at times. It is also very exciting. I can't wait to see how it will turn out!
I also have plans for more adventure fantasy featuring elite blademasters and romance. Sequels to Shadowblade are definitely an opition. And, one or two more Majat Code books, maybe? Or – it could be something along these lines but completely new.
Books