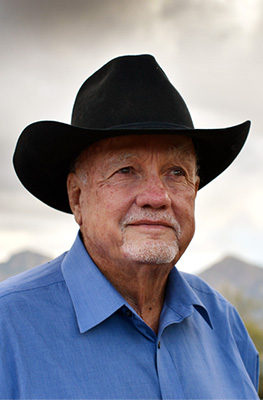 Please introduce yourself and your book(s)!
Hello from Tucson, Arizona. I'm H. Alan Day, a native Arizonan, though not a native Tucsonan. I grew up on Lazy B, a 200,000-acre cattle ranch straddling the high deserts of Arizona and New Mexico. From day one, I wanted to be a cowboy and a rancher, and after graduating from the University of Arizona, that's exactly what I became. For forty years, I managed Lazy B and about had as many adventures as you find on Netflix. I share my experiences in three books: Lazy B: Growing Up on a Cattle Ranch in the American Southwest, which I coauthored with my sister Sandra Day O'Connor; The Horse Lover: A Cowboy's Quest to Save the Wild Mustangs; and Cowboy Up! Life Lessons from Lazy B.
What is/are the real-life story(ies) behind your book(s)?
Big sister Sandra Day O'Connor asked—or should I say demanded—I write a book with her about being raised on Lazy B. Sandra is ten years older than I and started at Stanford University when I was six, so I had memories and insights that she didn't. During the course of writing Lazy B, we became quite close, a real bonus of writing that book. The Horse Lover is a story about how I started the first government-sponsored wild horse sanctuary. During my ranching career, I acquired two other ranches: the Rex Ranch in Whitman, Nebraska and the one I named Mustang Meadows Ranch in South Dakota. For four wonderful years, Mustang Meadows was home to 1500 wild mustangs. Cowboy Up! is a book of inspirational stories, some about wild horses, some about other horses I've owned and loved, and some stories about the people I've been blessed to know.
How do you deal with creative block?
I walk away from the manuscript and do other things, like play a game of golf or ride my bike. Eventually the urge to write returns, maybe a day later, maybe a week later, but there it is. I never had to meet a deadline, so I've never been forced to write through a block.
What are the biggest mistakes you can make in a book?
Not having it professionally edited. With no writing background, I make mistakes that I don't even know are mistakes. If a professional editor is kind enough, he or she can set you straight without making you feel one-inch tall.
Do you have tips on choosing titles and covers?
Titles have just come to me during the writing process, and they've been approved by the publishers.
How do bad reviews and negative feedback affect you and how do you deal with them?
Fortunately, I haven't had too many bad reviews, which makes ignoring that type of negative feedback much easier.
What were the best, worst and most surprising things you encountered during the entire process of completing your book(s)?
The best thing is to finish a chapter or a segment of the book and have a really good feeling about it. The worse is writing a long segment, struggling with it, and finally deciding to throw it all away and start fresh. When I started writing my portion of Lazy B, I wrote sporadically for several months. When I ended up with forty pages, I decided to sit down and read all the pages from start to finish. I quickly realized it was total garbage. I thought no one will want to read this and even worse, if someone did read it, I would be embarrassed to have my name on it. I threw it all away. Thank goodness. Then I had to spend several weeks trying to think of a whole new format rather than trying to rewrite what I knew was so bad. I decided to focus on the cowboys that each spent over fifty years on Lazy B and were really part of our family. That turned out to be a good decision.
Do you tend towards personal satisfaction or aim to serve your readers? Do you balance the two and how?
First, I have to like the writing. Only then, do I begin to wonder what the reader will think of it and get out of it.
What role do emotions play in creativity?
I like to think anyone will write better on a happy day, but I'm not sure about that. I just know that's how it works for me. And yet, even on those happy days, I may write something that makes me cry. My books include many stories about horses that have been my best friends. How can you not cry when you're writing about those kind of relationships?
What are your plans for future books?
I'm on the verge of completing my first novel.
Tell us some quirky facts about yourself
I decided that I would try to train 1500 wild horses to like me and follow my lead while horseback. Lo and behold, it worked. More times than I can count, I rode in front of a herd the nearest horse ten feet behind and another1499 right behind. That was both exciting and frightening. I also had some crazy airplane adventures, including how I learned to fly and how I seeded clouds. A few of those adventures might be called dumbass attacks, but suffice it to say, I remain alive and intact.