Please introduce yourself and your book(s)!
My name is Yvonne Heath. I am a nurse turned author, speaker and changemaker. My wonderful book (if I do say so myself), Love Your Life to Death, How to Plan and Prepare for End of Life, so You Can Live Fully Now, was launched in September, 2015, with a second edition in October 2019 .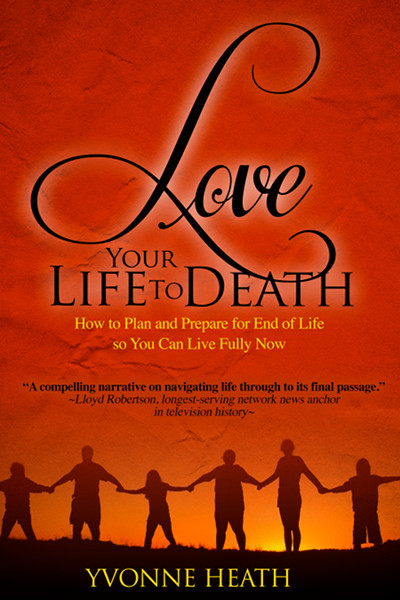 What is/are the real-life story(ies) behind your book(s)?
In my 27 year nursing career, I witnessed our death-phobic society, and how our reluctance to talk about, plan and prepare for grief causes excessive suffering in life and at the end of life. I suffered too, not knowing how to do it differently. So, I took a leap of faith, left my career and interviewed people ages 11 to 101 and shared their stories and my experience in my book. It changed my life.
What inspires/inspired your creativity?
Passion and purpose fueled my creativity. And finally being able to be a voice for change without anyone telling me, "That's just the way it is." I knew we could do better and this was my opportunity to speak my truth.
How do you deal with creative block?
I really don't believe there are creative blocks, only not taking action. If you wait to be inspired to write, you will feel blocked. If you write until you feel inspired, the creativity will be unleashed. Don't wait for the spirit to move you, move the spirit!
What are the biggest mistakes you can make in a book?
The biggest mistake is, of course, not getting started, followed by listening to negative people and self-doubt. We all have a story to tell, yours is just as valuable as anyone else's. You don't have to be perfect, you just have to start. It will all come together in the end.
Do you have tips on choosing titles and covers?
In choosing titles, covers, colours, etc… I did a lot of pacing, doodling/jotting down different ideas and bouncing ideas off of people whose opinions I respected. Then, knowing that nothing is perfect but it just needed to be meaningful to ME and convey my message, I chose my lovely title and colours. I worked with great people to complete my book. I am so happy with it.
How do bad reviews and negative feedback affect you and how do you deal with them?
I am always interested in feedback as I want my book to be an amazing resource, and it is. There will always be people who have something negative to say. I listen and apply the feedback if it is valuable and let it go if it's not. Just make sure as you are writing your book, that you are asking for feedback along the way, so you know, deep down in your heart, you are creating something wonderful. All feedback will help you grow as an author and as a person.
How has your creation process improved over time?
I've learned to trust myself more and take chances. I am committed to ongoing learning, connecting with creative and supportive people and being patient!
What were the best, worst and most surprising things you encountered during the entire process of completing your book(s)?
The worst thing? How all-consuming the process was—mentally, physically and emotionally. And of course everything took more time than I wanted it to. (And money!) The best part was the incredible feeling of holding my book in my hands for the very first time. It was like my fourth child! I held it so cautiously and lovingly, filled with pride. Haha. And the next best thing has been the incredible feedback from thousands of people telling me that my book is life-changing. Since my publication I have also spoken around Canada and the USA and even recorded my TEDx Talk in the spring of 2019. Now that's what I call priceless!!
Do you tend towards personal satisfaction or aim to serve your readers? Do you balance the two and how?
That's easy because my personal satisfaction comes from service to others. Truly. It is the greatest gift in the world!!
What are your plans for future books?
I have no doubt there will be another book of my own coming down the road. For now, I will just keep sharing this message with the world. Have book, will travel! I am happy to share that from this first book, I have been a contributing author to five other non fiction books, I now have my own television show #RealLifeTalks with Yvonne Heath and my own syndicated radio show #IJustShowedUp. This validates that this is my new path in life. To serve and support others.
Tell us some quirky facts about yourself
So many to choose from. Let's see.. I wear socks and sandals whenever I can, I love nature so much I will actually hug a tree, I am funny, weird, and cannot live with a crooked picture being in the same room and I will bring a bug outside instead of killing it if I can. How's all that for quirky?? I wake up at 5am, before everyone else is awake. I workout for one hour, drink a perfect cup of coffee and start my day. This sets the pace for a full day of changing lives and I go to be early.
Thanks, and may your always find a ways to… Love Your Life! Yvonne