My name is Romalyn Tilghman, and my novel is To the Stars Through Difficulties. It's been called a "love letter to libraries". My father insisted he first took me to the library before I learned to talk. I'm not sure of the veracity of that statement, but I do know we went before I learned to read. We checked out The Peevish Penguin over and over again. This is the story of a tenacious penguin who wants to fly like the other birds and, after many tries, finally does so by ascending an iceberg, sliding down fast, and leaving the ground for a few nanoseconds. This tale of determination turns out to be a good lesson for a novelist.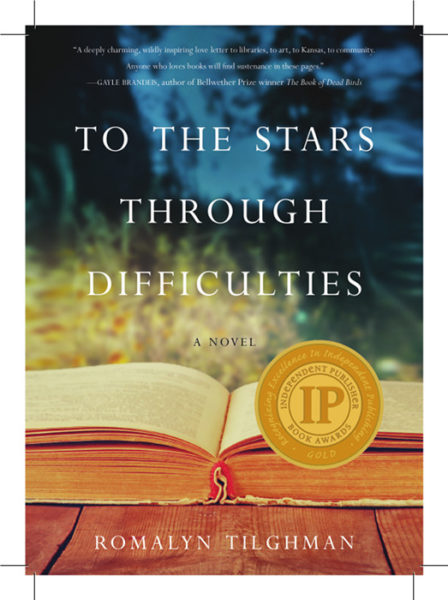 My first library was a Carnegie library, so perhaps the seeds of the inspiration to delve into Carnegie library history were sown before I was in kindergarten. Later, much later, after graduate school and when working with arts councils across the state of Kansas, I discovered there were fifty-nine Carnegie libraries in Kansas. Astounding when you consider this rural state. As I worked with arts council boards, I was impressed by the dedication of (mostly women) volunteers who were determined to bring culture to their small communities and noticed how their own self-esteem grew in the process. Since a few of the Carnegie libraries were being turned into arts centers, I started exploring the early history of the Carnegie libraries to find a similar pattern. I read minutes, kept newspaper articles, let the idea germinate, hauled my notes to five states over several decades before I sat down to write.
For me, the most fun part of the writing process is the research. Not that I approach it in any organized way. But as I write the story, facts emerge to support the story, and I feel like I've found buried treasure. Why is Rachel so supportive of the foster children in my story? I struggled with her motivation until I found the orphan trains and realized her father had arrived on one.
Basically, I wish I wrote in a more organized way. Instead, I seem to approach my work like a crazy quilt, writing scenes quickly, trying to put them in some kind of order, continually finding ways to embellish each patch. It means the book on which I'm currently working is a royal mess. It, too, will celebrate the Carnegie libraries, because apparently they won't let me be. I didn't mean for them to intrude, but they do. It's not a sequel, but there is an intersection, because how can I let go of the characters who've become my friends? How can I not use all the information and inspiration I've gathered by visiting Carnegie libraries over the past few years in the promotion of my book?
I can't think much about readers when I write. It would scare the words right out of me to worry about what they'll think. For that reason, the second novel can be harder than the first. My readers have been generous and most appreciative, my book has won some important accolades and prizes. But If I try to write towards those, I'm sure I'll be doomed. Or at least need a nap. That said, there is nothing more gratifying than hearing from a reader who enjoyed the story.
Rewards have been varied, but perhaps none greater than hearing from old friends, near and far. I even heard from a woman named Romalyn, who told me she was named after me. Her mother had been my pre-school teacher! Recently, I found my pre-school "report card" which I really must send to Romalyn, for the description of the person she was named after. That teacher described me to a T. My friends would laugh at the accuracy of her description of a 4-year-old who seemed to get along well enough with the other children but was just as happy sitting in a corner by herself, making up stories and creating dialogue. She had me pegged!
Website: http://www.romalyn.com/