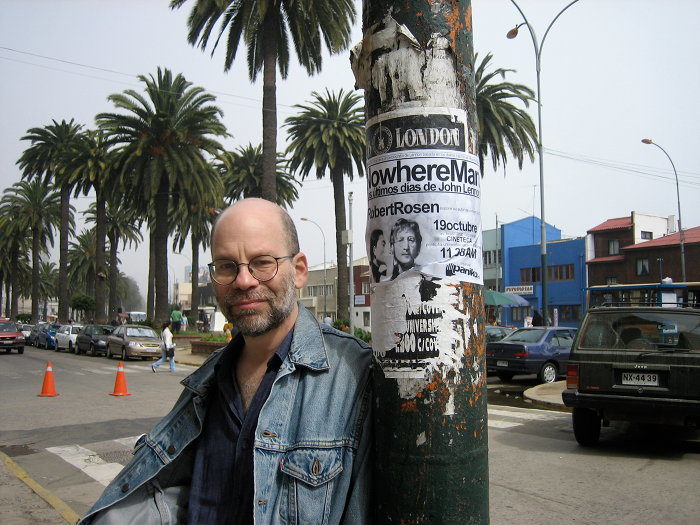 Author of Bobby in Naziland: A Tale of Flatbush, Nowhere Man: The Final Days of John Lennon, and Beaver Street: A History of Modern Pornography
Please introduce yourself and your book(s)!
I'm Robert Rosen and I'm best known for my book Nowhere Man: The Final Days of John Lennon. I was one of the few people to have access to Lennon's private diaries, and I used the information in the diaries to take the reader on a journey through Lennon's consciousness—the book shows you the world through his eyes. Nowhere Man was originally published in 2000 and it's been a bestseller in many languages and many countries.
My new book, which comes out September 1, is Bobby in Naziland: A Tale of Flatbush. It's a memoir about growing up in Brooklyn in the 1950s and 60s, surrounded by Holocaust survivors and World War II veterans who'd fought the Nazis. Flatbush, I wrote, was a place "where the war lingered like a mass hallucination." Hence the title.
My book Beaver Street: A History of Modern Pornography, which came out in 2012, is an investigative memoir. I worked as a men's magazine editor for 16 years, and I was able to use my inside knowledge of the industry to look at late-20th-century and early-21st-century politics and capitalism through a pornographic lens. It's a serious history that reads like a comic novel.
What inspires/inspired your creativity?
I've always felt a primal need to communicate. For me, the best way to communicate is with the written word, and the best place to put those words is between the covers of a book. Yes, it's nice to get paid, too. But if money were my primary motivation I'd have stopped doing this about 45 years ago.
How do you deal with creative block?
I write through it. I just start putting words down on paper or on a computer screen. It doesn't matter what they say. It could be gibberish. It could be a description of the wall in front of my computer. And I keep doing it until the right words start to flow, which they eventually do.
What are the biggest mistakes you can make in a book?
It's very difficult to get a reader's attention and it's even more difficult to hold it. So, don't be boring. Don't waste words. Say what you need to say in as few words as possible. Compression is the key.
How do bad reviews and negative feedback affect you and how do you deal with them?
People have been trashing Nowhere Man for 20 years. Yet, the book became a classic—because it's gotten plenty of good reviews, too. Bad reviews are fine… as long as there are good ones to go along with them. I've found that a zero-star hatchet job can be as good as a five-star rave—they will both get people's attention and make them want to pick up the book. But for the most part, I ignore the bad reviews and just keep writing. Oscar Wilde said, "When critics disagree the artist is in accord with himself." I agree with that.
Do you have any creativity tricks?
I wouldn't call them tricks. I've written all three of my books before I had deals for them. So, #1, I write to keep myself amused and stimulated. I figure if I'm amused and stimulated then the reader will be, too. And #2, I keep a time sheet on myself to make sure I do a minimum of a half hour—but usually three to five hours—of real writing and editing work every day. Staring at a blank screen and doing nothing doesn't count as work.
What are your plans for future books?
Right now I'm working on a book about the 1970s. In part, it's a memoir about hitchhiking, and it's based on diaries I kept hitching all over Europe, Israel, the United States, and Canada. But it's also about the radical student press at the City College of New York and the moment when the student left gave way to punk. I've got a long way to go and a lot to figure out.
Personal Website
http://www.robertrosennyc.com/
Facebook
https://www.facebook.com/robertrosen27
Twitter
https://twitter.com/Rrosen2727
Bobby in Naziland on Amazon
https://www.amazon.com/Bobby-Naziland-Flatbush-Robert-Rosen/dp/1909394688
Nowhere Man on Amazon
https://www.amazon.com/Nowhere-Man-Final-Days-Lennon-ebook/dp/B015RXUD6U/ref=tmm_kin_swatch_0?_encoding=UTF8&qid=&sr=
Beaver Street on Amazon
https://www.amazon.com/Beaver-Street-History-Modern-Pornography/dp/1900486768/ref=sr_1_1?ie=UTF8&qid=1459804852&sr=8-1&keywords=beaver+street+rosen