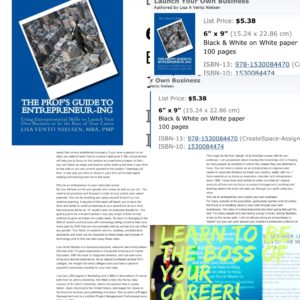 By Lisa Vento Nielsen
My company, The Next Step, is a NYC based woman owned business that I launched in July 2015. I have always loved to write and use a daily blog to share thoughts, free advice and lessons on managing careers, education and on being an entrepreneur. The blog has been a great tool to drive people to my site and to find clients and establish partnerships around training, workshops and more. The blog, though, did not support all of the content that I have to share based off of 10+ years in Corporate America and 13 years in higher education as well as being an entrepreneur since 2004. That is how my first book came in to existence.
The Prof's Guide to Entrepreneur-ING – Using Entrepreneurial Skills to Launch Your Own Business or be the Boss of Your Career is a real world book that can walk you through some of my best and most important lessons on being ready to build out an amazing career or launch your own business.
Most people realize today that the "old" idea of having a career in Corporate America that lasts 30+ years is just not going to be the best option to having true growth and opportunity. I liken it to being and staying "hungry" – when you own your own business, you have to be out there and networking and building connections and clients to survive but why shouldn't you do that with your career, as well?
Being entrepreneurial in nature can help you create and build the career you deserve by allowing you to be competitive and to be "hungry" to gain growth and opportunity.
My real life lessons on how to build your brand alone is worth the cost of this book and more – by identifying how to work your skills and make yourself a mission statement around who you are and what you bring to the table, you can be ready to build out and succeed in your career beyond your wildest dream. In addition, by heeding my advice and learning with me, you might just realize that you would like to go into business for yourself as a potential side-gig or a back up career plan. This book can be the basis of both opportunities for you – the opportunity to learn and grow in your corporate career and also the option to branch out on your own to be your own boss.
There is another installment coming to this book series on Entrepreneur-ING and it will be on how to execute on the business plan so that if you do get inspired by the first installment to consider starting your own business, you can be ready to create that business with me and the second installment.
A cause near and dear to my heart is in helping people transition back to the workforce. My company, The Next Step, specializes on creating killer resumes, cover letters and branding packages for career focused individuals. I focus on helping people return to the workforce after having a blank spaces on their resume for either childcare, illness or unemployment.
This type of book can help people with blank spaces on their resume move forward on retraining and re-tooling their skill sets and create a side business or a potential new career path that can allow for flexibility in returning to being employed.
I created the word "Entrepreneur-ING" to mean being hungry and focused on either being a stand out potential candidate for any job you set your mind to or creating your own business. This book is a self-directed learning experience from an expert on applying skills and traits of entrepreneurship to either your career or your business.
The book takes you through steps to identify and excel at what is your biggest skill. I also teach you the skills you need to succeed in the future whether it be as an entrepreneur or an entrepreneurial career person.
I am the source in this book taking my decade plus experience in Corporate America and an entrepreneur to provide a blueprint on how to be successful in whichever path you decide to follow. I considered making this book a "choose your own adventure" book – one path for launching a business and another for being the boss of your career – but decided instead that both topics should be fused together as options to build off of for career people today.
If you are interested in learning with me, this book is the perfect place to start. It is available on KindleUnlimited for no cost but I think having a printed copy of the book is most preferable so that you can actually write in the book for the lessons and "homework" I ask you to prepare around skills and other ideas for building your brand and mission statement.
I am available for public speaking engagements about my books or any other lessons found on my blog and website. You can book me here. You can follow me on twitter @thenext_step123 or via my blog at The Next Step Blog.
Lisa Vento Nielsen is a small business owner and an author with two books available on Amazon.com – one on being entrepreneurial and the other on college readiness. She is focused on helping people take their next step through her company, The Next Step. She provides training and workshops on college and career readiness and also does brand creation for her clients around resumes, LinkedIn and cover letters to help people succeed in their careers. In addition, she has classes and seminars she offers through her partnership with Wagner College Department for Lifelong Learning. Learn more about her company here The Next Step .