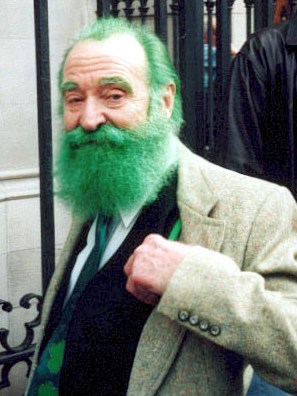 By Charles Ng'Ang'A, Bachelor of Applied Science in Biochemistry
Use lemon juice freshly squeezed from 2 or more lemons (use more lemons if you have more hair), then soak your hair with it for about 5 minutes, and the citric acid in the lemon will break down the green tinge (which is due to oxidation of copper); rinse it off, shampoo, and do deep conditioning to protect your hair from damage as citric acid tends to dry it, making it more susceptible to damage.
Thoroughly coat your hair with ketchup and cover it (with a swim cap, shower cap, or wrap it in tin foil) for about 30 minutes to give the acetic acid and vinegar in the ketchup ample time to work (the two acids in ketchup double its effectiveness in getting rid of the green tinge), wash to remove the ketchup which will come out with the green tint, and finally, shampoo, condition and rinse.
Rinsing your hair with apple cider vinegar after swimming helps to remove the green hue because apple cider vinegar is rich in acetic acid which is good at eliminating it; thereafter, apply clarifying shampoo, conditioner, and rinse; if you do this process well, it will remove the green color.
Apply a full glass of tomato juice to your hair and let it soak for 5 to 10 minutes as its acidity breaks down and removes the green hue, and then wash and rinse it (since the acidity of tomato juice is weaker, and depending on how strong the green color is, you may need to repeat this process several times until you get satisfactory results), after which you can do conditioning it as usual.
Put 6 to 8 aspirin tablets in a bowl of warm water to dissolve them, or crush them in a mortar and pestle and add enough warm water to the powder (depending on how long or short your hair is) and stir to obtain a uniform mixture; then, apply the aspirin-and-water mixture to your hair well (alternatively, wet it first with warm water and then apply the aspirin powder uniformly); let it rest for about 15 to 20 minutes, and then wash it off, and the aspirin will come off with the green color; finally, rinse off the aspirin, then apply shampoo and conditioner.
Mix about 1/4 to 1/2 cup of baking soda with some water to create a thick, consistent paste and apply it to your hair by massaging it through every strand, while paying more attention to areas where the color is more prominent; let the paste rest for a few minutes before rinsing it out with clean water (depending on the intensity of the green color, and considering that baking soda is not as potent as acids, you may need to repeat this process until you are satisfied with the outcome); finally, rinse and use shampoo and conditioner.
Prepare a mixture of Lemon Kool-Aid and water, apply it to your hair and allow it to rest for several minutes, rinse off the Lemon Kool-Aid, and use shampoo and conditioner.
You can use a chelating swimmer's shampoo (chelating means that it has a chemical compound that combines with and removes the copper-derived compounds that bring about the tint) to remove the green tinge to some extent after swimming, although a swimmer's shampoo is more effective as a preventative treatment before getting into the swimming pool.
Trimming your hair may be your last course of action if all other methods have failed to yield results, the green color is still noticeable, and you want to get rid of it completely and give your hair a fresh start.