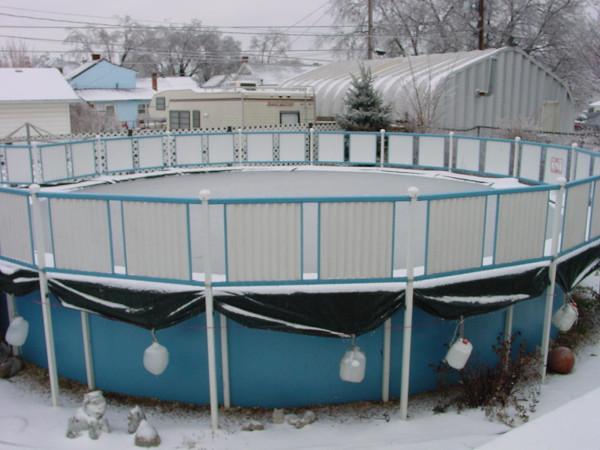 Reviewed by Andrada Simion, Master of Science in Chemistry
An above ground pool can last for many years if properly maintained.
Check the outer structure
Periodically examine the frame that supports the pool for bends or crimps.
If it has a PVC frame, check for cracks in the pipe.
Check the pool walls for dents or folds.
If there is an inflatable top ring, be sure it is firm and free from leaks.
Examine the ground around the perimeter of the pool to check for low spots or holes.
Keep the outer surface clean by using a soft brush and a water hose.
Maintaining the Liner
Regularly examine the liner for any rips or tears.
Use a soft bristle brush to clean the liner every other week.
Algae build up can be removed with a soft mop or cloth.
Use only approved pool chemicals in the proper ratios.
Improper chlorine use will dry and crack the liner material.
Pump and Filter Care
Use the correct size pump for the water capacity of your pool.
Always use the proper electrical supply to run the pump.
Remove the filter cartridge and rinse it with a garden hose weekly.
Replace the filter cartridge monthly.
If using a sand or salt filter, engage the valve to backwash the filter weekly.
Clean out skimmer baskets twice a week, or any time debris is present.
Water quality and maintenance
Use a skimmer or leaf basket to remove debris from daily.
Regularly clean filter baskets and backwash if necessary.
Use a pool vacuum to clean dirt and sand from the floor of the pool.
Run the pump a minimum of 8 to 12 hours per day.
Aim jets to direct water into a circular motion.
Use a test kit to measure pH, chlorine, and alkalinity numbers.
Chemicals and Additives
Poolwater should be tested every other day throughout the summer.
To use a test strip remove a small sample of the water, dip the test strip into it, wait the allotted time then compare the strip to the chart.
The pH level should be 7.4-7.6.
Add pH reducer or pH builder if needed.
Alkalinity of the water should be 100-150 parts per million.
A heavy rain or naturally occurring minerals can affect alkalinity.
Check chlorine levels. Proper chlorine level is 1.0 parts per million.
Use chlorine tablets in the pump basket as directed by manufacturer and additional ones in a floating dispenser.
Use shock if algae appears or the water becomes hazy or discolored – it should be applied directly at 1 lb./5000 gal. 12-24 hours after shock treatment, add algaecide according to the directions, wait 24 hours then test water for normal range on all indicators.
Other Concerns and Suggestions
Place the pool in a flat, level, open area away from falling leaves or branches.
Invest in a pool cover to help maintain chemical levels and keep debris out.
If using a ladder, be sure it is properly secured and has no sharp edges which could damage the liner.
Toys should be designed for pool use only, and avoid metal toys and sharp objects.
Have a tub or pan to use for a foot wash station. This will keep grass and dirt out.
Sunscreen, deodorant, shampoo, and detergents can affect water quality – use an absorbent cotton cloth on top of the water to help remove these products.
Preparing the pool for winter
Test the water and ensure that it is properly treated.
Scrub the liner with a soft brush.
Run the pool vacuum to remove all dirt and debris.
Lower the water level to below the return jets.
Add winterizing chemicals as directed by manufacturer.
Remove the hoses for the filter and pump.
Drain the pump and store it in a safe, dry location.
Inflate an air pillow or beach balls and let float on water's surface.
Use a winter cover to keep out damaging snow and ice.