Please introduce yourself and your book(s)!
Hey, I am a writer, author, editor, and blogger. I have come up with my debut book this year in February. My novella Done With Her… is a romantic thriller which is focused around a heinous crime and talks about the need for love in our society. The book is available on Amazon all over the world. You can get your copy here.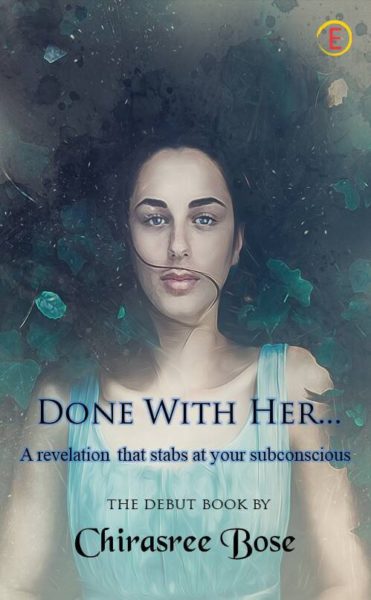 What is/are the story(ies) behind your book(s)?
Oh, I love to talk about this. Because the book happened out of the blue. I never really planned it to be my debut novel. I was writing this story for a competition. Which I didn't win. Thanks to God. Once it was out on Amazon, I suddenly realized that I was a published author. And this was my debut book. It was an amazing yet intimidating feeling. But today I'm glad it happened.
What inspires/inspired your creativity?
My inspiration for writing this book came from my love for reading. I've been a reader for a long, long time. Writing happened to me only about 3 years back.
How do you deal with creative block?
I don't believe in it. I push myself all the time to keep writing even on days when I am extremely tired. I believe writer's block is an excuse for lazy writers.
What are the biggest mistakes you can make in a book?
1. Not focus on building the characters well
2. Not show different shades (especially a negative one) of your characters
3. Always aim for a happy ending. Life isn't that straightforward (absolutely my personal opinion)
Do you have tips on choosing titles and covers?
Titles should be a bit confusing yet enthralling. Same goes for the cover as well.
How do bad reviews and negative feedback affect you and how do you deal with them?
They affected me a lot in the beginning. Now I am getting used to them. Because the fact is you cannot make everybody love your book. You should better accept the reviews and move on.
How has your creation process improved over time?
It has improved significantly. Now when I read one of my first works, I realize it. However, to achieve that, I have worked hard relentlessly over the years.
What were the best, worst and most surprising things you encountered during the entire process of completing your book(s)?
Okay, so the best part was that I completed the book, unlike many other manuscripts that still lie hidden somewhere in my laptop. The worse part (also something I enjoy) was that it was emotionally very challenging for me to pull off this genre. The most surprising stuff about writing this story was that I had managed to pull off a plot as dark as this one.
Do you tend towards personal satisfaction or aim to serve your readers? Do you balance the two and how?
Nope. Always personal satisfaction. I know my story would eventually find its right audience.
What role do emotions play in creativity?
Emotions play the most important role in creativity. They reflect on your characters, the plot, the message your story conveys and everything else for that matter.
Do you have any creativity tricks?
I don't really know. Hard work maybe.
What are your plans for future books?
I plan to keep writing. Hence, you should expect a lot of them.
Tell us some quirky facts about yourself
I literally live in my head. Talk to myself all the time. And draw ideas from it. So yeah, I am pretty weird.