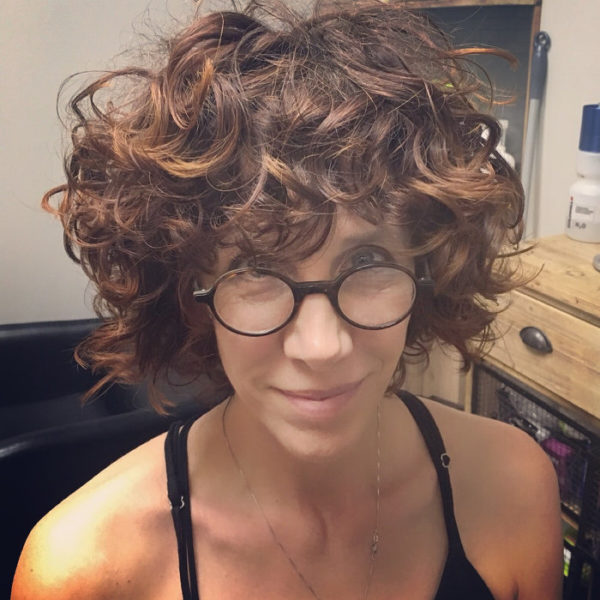 Please introduce yourself and your book!
 Hi, I'm Dawn Davies. I am the author of Mothers of Sparta: A Memoir in Pieces, published in 2018 by Flatiron Books, as well as 50 other published essays, poems, and shorts stories. Mothers of Sparta won the 2018 Florida Book Award for General Nonfiction, and the 2019 Great Lakes Colleges Association New Writers Award for Nonfiction. It's also been an Indies Introduces Title and been on the Indies Next List a few times, both in hardback and paperback. Sometimes I teach writing classes and workshops and I do manuscript consultations and work one-on-one with writers who are trying to get published.
What is the story behind your book?
 Mothers of Sparta is a collection of essays about finding your place in the world through different stages in life. We change so much as we adjust to different life roles, and I have always been interested in examining how we adapt and grow, while also keeping parts of our old selves intact. The essays stand alone, but they are woven together in a way that makes narrative sense, giving the reader a sort of stained-glass view of the narrator's life. I often use humor in my writing, and humor is certainly evident in these essays. Humor makes the tough stuff easier to swallow.
How do you deal with creative block?
 I have writing downtime, often between projects, that may appear to be writers' block, but I prefer to think of it as thinking time. There are two parts to writing: the art part and the butt-in-seat part. When I'm not actively writing, I think about writing. I read a lot. I explore what other people are doing with the craft. If I don't feel like I have anything to say, or I can't get something out the right way, it just means I haven't thought enough about it. So, I just let myself think about it for a while. I'm creating something that is a cross between art and a product, so I don't want to just churn it out like I'm baking loaves of bread. I give the art part of the writing process time to breath. But I don't give myself too much thinking time. Maybe a few weeks. The butt-in-seat part needs to stay regular. It needs to stay a habit.
What are the biggest mistakes you can make in a book?
 I think it is a mistake for writers to underestimate their readers. Readers are smart. They put things together, they notice details. They need to be able to suspend disbelief and dive into your story. It's a gift you give them – that ability to disappear into your world – and they can handle a lot. Big plots, bid ideas, subtle shifts, small hints plays on words, variations on themes. All of it is for them and they are smart, so I think it is important for writers to trust that readers can handle whatever we give them
How do bad reviews and negative feedback affect you and how do you deal with them?
This may sound bad, but once I have the big reviews done (Publisher's Weekly, Booklist, Kirkus, EW, etc.) and they are positive, I don't read any other reviews unless my agent or editor sends them to me. I appreciate them and am happy to read them, but I don't go looking for them. I don't think it is healthy for me. I don't care about negative reviews on Goodreads or Amazon, because people are entitled to their opinion, and they are entitled to express their opinion, and my writing style doesn't suit everyone. The book is done. I like it. My editor likes it. People are still buying it, so it's okay to hear if someone doesn't like it. It doesn't hurt my feelings.
How has your creation process improved over time?
 I trust myself more than I used to. In early stages, when I was trying something new, I doubted myself and tended to look for external input that made me feel good about what I was doing. I needed to ask other people if what I was writing was "any good." Rejection was harder to take because I thought the problem was with my work, and in early stages, it was! I took it personally and it hurt. Now that I have more practice and I know the industry a bit better, rejection is sometimes more about looking for the right fit with an editor or journal, and I can be more objective about rejection. I always look at rejection as an opportunity to revise my work, but I don't automatically jump to thinking my work is "bad."
Now that I have a little more confidence with my work,  I can sit with it longer and trust that what I am doing within a piece is okay. All of this takes time and practice and experience. That's all. I've put in the hours, done a lot of studying on the craft as well as a lot of revising ( and revising and revising and revising and revising and revising).
Do you have any creativity tricks?
Before writing every day, I take a quick read or look or listen to another artist who is just wide open, one whose flow you can practically see. Sometimes it's a piece of writing, or a speech, or a song or a recording of a live performance. It's often a musician or dancer. I think about that state of being wide open, where nothing else matters, and the artist is just a conduit whose job it is to get some sort of emotional message across to their audience. I think about that state, about getting into that state, about being in that state, then I throw caution to the wind and go for it.
What are your plans for future books?
I'm finishing revisions on a novel and working on another essay collection. There are books lined up after that, too.
Tell us some quirky facts about yourself:
 I read military history for fun.
I have two poodles and one of them has no eyes. She gets around great.
I'm into biohacking and longevity, which includes studying nutrition and biochemistry in order to better understand how our bodies work.
I also live with some of the chronic after effects of Lyme disease, so I am very weird about what I consume, how much sleep I get, and the things I spend my time on. For instance, I watch very little television and consume very little social media. Life is short and very beautiful. I don't want to waste it.

You can find out more about me at dawndaviesbooks.com, and @dawnlandia on Instagram and Twitter. I blog about writing here: http://www.dawndaviesbooks.com/blog