Please introduce yourself and your book(s)!
Hello. My name is Edoardo Albert and I'm a wordworker. I write history, historical fiction and speculative fiction mainly set in early Medieval Britain (the time between the Romans leaving and the Normans arriving) and the 40th millennium. My next book, Warrior: A Life of War in Anglo-Saxon Britain, (published on 19 September by Granta), tells the story of a forgotten man, a man whose bones were excavated from an Anglo-Saxon graveyard in Bamburgh, Northumberland, and the story of the archaeologists who found him. It is the story of a violent time when Britain was defining itself in waves of religious fervour, scattered tribal expansion and terrible bloodshed; it is the story of the fighting class, men apart, defined in life and death by their experiences on the killing field.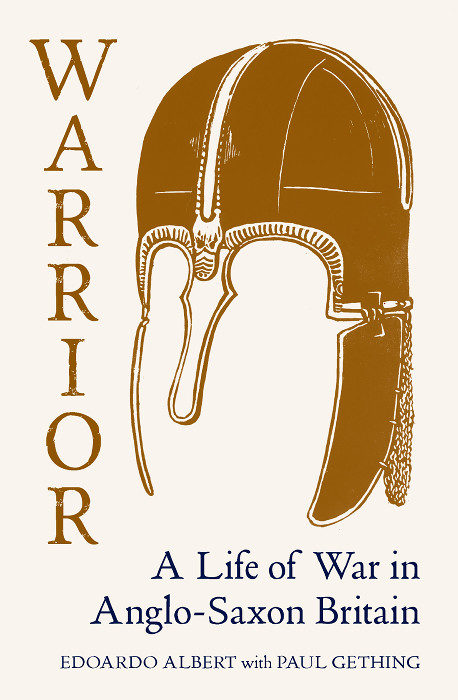 What is/are the real-life story(ies) behind your book(s)?
My books are inspired by the history of Britain and Ireland, and in particular the foundational era, previously dismissed as the Dark Ages, when Britain became England, Wales and Scotland.
What inspires/inspired your creativity?
Does it need inspiration? It seems quite natural.
How do you deal with creative block?
A bill coming through the post is very helpful in this regard!
What are the biggest mistakes you can make in a book?
Not writing it.
Do you have tips on choosing titles and covers?
For titles, brainstorm as many ideas as you can, and then test them out on as many people as you can. If you're working with a publisher, work with the publisher – selling books is their business and they probably know it better than you do. So far as covers are concerned, you're aiming for something that both tells prospective readers what they're getting and that stands out enough from the crowd that your book will be distinctive. It's not easy to get the balance right.
How do bad reviews and negative feedback affect you and how do you deal with them?
Now, not at all – experience first dulls the shock, then renders them irrelevant.
How has your creation process improved over time?
I now write standing up, which has helped my back hugely and is actually producing better writing, so I recommend trying it.
What were the best, worst and most surprising things you encountered during the entire process of completing your book(s)?
The best was when I went with my publisher, Granta, to see the printing of my newest book, Warrior, at the factory where it was being printed. That and seeing my books in bookshops and libraries. There's nothing I would single out as the worst since this is the life I have chosen. And the most surprising: the kindness of established writers to newcomers in the field.
Do you tend towards personal satisfaction or aim to serve your readers? Do you balance the two and how?
Personal satisfaction, really. If I don't like what I'm writing, how can I expect anyone else to?
What role do emotions play in creativity?
Interesting question to which I do not know the answer.
Do you have any creativity tricks?
Creativity is a muscle that needs to be exercised. Never simply wait for inspiration: practice it. So, looking back at the previous question, does that mean that emotions don't play a role in creativity? I doubt that is the case, but I suspect that emotions provide the drive towards creation rather than iths content: that is the function of the imagination.
What are your plans for future books?
I am working on a follow-up to Warrior that will look at the emergence of the first English kingdoms in the 7th century AD.
Tell us some quirky facts about yourself
I am, I suspect, the only writer of Italian/Sri Lankan heritage writing about Britain in the Dark Ages.