Please introduce yourself and your book(s)!
My name James D. Best. I've written twelve books under my name and ghostwritten others. My nonfiction books include Principled Action , The Digital Organization , and my ghostwriting assignments. Currently, I focus on historical novels, including the Steve Dancy Tales (7) and Tempest at Dawn. The Best Thrillers (2) are contemporary novels with strong historical elements.
I'm a member of Western Writers of America, Western Literature Association, and the Pacific Beach Surf Club. I live with my wife Diane in Omaha, San Diego, and New York City.
I've been writing most of my life, but my early years were spent writing about the computer industry. Wiley published my first book, The Digital Organization. After that experience, I vowed to never again write a book that had a shelf-life of six nanoseconds. And that's how I chose historical novels. They last forever.
I had a hard transition from technical nonfiction to novels. Technical writing not only didn't prepare me for fiction, it taught me some bad habits that didn't fit with storytelling. Desperate, I read dozens of books on fiction writing, attended numerous workshops, and even hired a writing coach. If my sales and reviews are a measurement, I made the changeover successfully.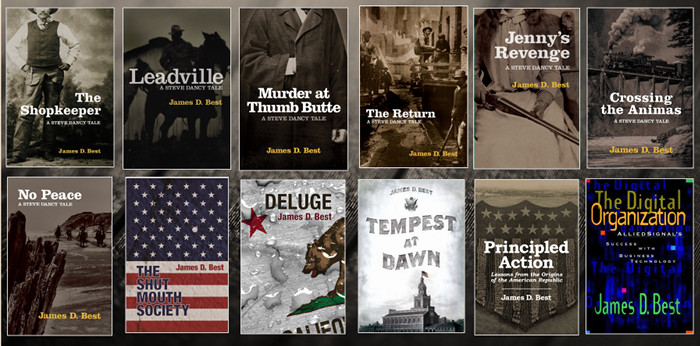 What is/are the real-life story(ies) behind your book(s)?
I lived every one of my books. Not in reality, but as I wrote them. I originally started writing fiction to relieve stress from my day job. After work, I could flip open my laptop, start writing, and almost instantly be transported into the story. Stress dissipated in a few short minutes.
What inspires/inspired your creativity?
Coffee
How do you deal with creative block?
Each day, I start by editing my prior day's work. By the time I finish editing, I effortlessly transition into writing new material. The only times I have experienced creative block is when I've tried to start writing where I left off. I think of editing my prior day's work as a form of a stretching exercise before tackling the tough stuff.
This link will take you to my blog page on the craft of writing.
What is the biggest mistake you can make in a book?
Taking the reader out of the story. Fiction transports readers to another place and time. Pulling the reader back to reality is a serious mistake. Typos and grammar errors can be jarring. Side narratives that don't move the story forward cause a reader to look up from the book. Too much description bores. Showing off research annoys. Mixing up character names causes the reader to flip back and forth through the pages. Continuity errors distract. Good writing is a craft, good storytelling is an art. Like all art, attention to detail makes a huge difference. Always keep your reader in the story.
Do you have tips on choosing titles and covers?
The most important rule for historical novels is to pick a title that sounds like a novel, not a nonfiction history book.
What were the best, worst and most surprising things you encountered during the entire process of completing your book(s)?
I took historical accuracy seriously when I wrote Tempest at Dawn. I not only read dozens of books about the Constitutional Convention but studied Eighteen Century lifestyles and technology; Philadelphia, New York, and New Haven; the international scene; and numerous biographies of the principle Framers of the Constitution. I also made numerous visits to New Haven, New York, Mount Vernon, Montpelier, and Philadelphia as part of my research.
In my penchant for accuracy, I tried to lodge the delegates in the appropriate Inns, homes, and taverns, but I couldn't find where Roger Sherman stayed during the convention. After looking at every source I could find, I decided to make something up. He was not rich, so he probably would have stayed at a boarding house. I used my wife's maiden name and put him in a room at Mrs. Marshall's boarding house.
On my third visit to Philadelphia, I made a huge find: a map of the city during the convention in 1787. It showed everything, including streets under construction. I hurried back to our hotel room and examined the map carefully. My intent was to breathe life into the dry renditions that focused on the political arguments. As I scanned the map, I suddenly stopped.
Stunned, I brought the map over to my wife and pointed at an illustrated building a few blocks from the State House. The caption read, "Mrs. Marshall's boarding house where Roger Sherman stayed."
In all my years of writing historical novels, this was the oddest coincidence I ever encountered. Although the house and name are historically correct, I must admit that Mrs. Marshall herself is an entirely fictional character. At least, I think so.
Do you tend towards personal satisfaction or aim to serve your readers? Do you balance the two and how?
My most devoted fans would prefer I wrote nothing but Steve Dancy Tales. Unfortunately, when I write two in a row, I get a bit bored. To keep myself fresh, I write an entirely different book between each of the novels in the Steve Dancy series.
What are your plans for future books?
I will shortly release No Peace, A Steve Dancy Tale. (Scheduled for September 9 th)
After marriage, Steve Dancy has quietly settled in San Diego. He can hardly remember his days of wanderlust, and he's grateful to have left behind the violence of a raw frontier. In a celebratory mood, Steve invites his mother to a meet her new grandchild in a chic resort in Monterey, California. With the delivery of a handwritten note, his world suddenly reverts to the savagery of his bygone days.
There will be no peace.
Tell us some quirky facts about yourself
I still surf when we winter in San Diego. For my age, that's quirky … or maybe reckless.
I written over two million words by typing with two fingers.
My kids once gave me an unabridged dictionary for Christmas. The note said: "Your book is in here. Some assembly required."