Please introduce yourself and your book(s)!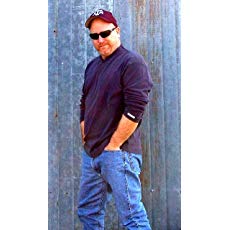 I'm Jaxon Reed and I have been writing science fiction and fantasy stories most of my life. In college at Texas A&M, I roomed with several other guys in a cheap (old and run down) house within walking distance to campus. We were typical nerds, running a dedicated phone line and computer with BBS software. We also liked to read a lot, and spent much time discussing books of the day.
I tried my hand at an epic fantasy at that point, but never felt happy with it. Fast forward years later, and I have boys of my own. I wanted to write some of the stories that had been bouncing around in my head for years, so I sat down and hammered out my first complete science fiction novel, Redwood: Servant of the State.
Set in a future where each new life-bearing planet is connected to others through Janus rings, going all the way back to Old Earth, the planet Redwood has giant trees and vampire primates which end up causing difficulties for the young protagonist battling government forces as a vampire. Eventually, this turned into a trilogy.
I became aware of Amazon's Kindle Scout program, where writers could submit a manuscript for a shot at a publishing contract. In 2016 I submitted The Empathic Detective to the Kindle Scout program. Set in a futuristic Austin, Texas, a detective with psychic powers battles resurgent medieval forces. I submitted one more book in the series before Kindle Scout was discontinued, and received another contract for it. I have since published a third book in the series to wrap up the trilogy.
Since then I have published the Forlorn Dagger Trilogy, an epic high fantasy about a knife that saps magic and can be used to assassinate wizards, and the Fae Killers series, an urban fantasy about a team living outside of time tracking down evil fairies in the multiverse.
Right now I am over halfway through creating a 10 book space opera, Pirates of the Milky Way. Large chunks of these books are free for the moment on sites like Royal Road and my Patreon page. Going the web serial route has opened up my work to an audience it otherwise would have missed, and I have enjoyed the creative process and feedback the series has elicited thus far.
Do you tend towards personal satisfaction or aim to serve your readers? Do you balance the two and how?
I try not to be boring, if it all possible. I try to write things I would like to read. Some say the author's job is to stoke emotion in the reader. I try to share my imagination and offer what is hopefully an enjoyable ride.
What are your plans for future books?
I'm writing two right now. I'm just starting Book 7 in the Pirates of the Milky Way series, Operation Starfold. These are written at the rate of about 1,000 words a day. I release a new chapter every day, and the chapters vary in length from 850 words at the low end to 1,850 at the high end. It has been a fun process. I started writing the series in January of this year, then began releasing a chapter a day on Royal Road in February with a one month buffer.
The other book is a side project, and I've been completing about one 10,000 to 15,000 word chapter per month on it. It is a high fantasy called Dungeon Corps: The Crypts of Phanos. The Dungeon Corps takes students, drifters, and other misfits and forms teams to make suppression runs down in the crypts. We have elves, dwarves, sellswords, vampires, and others fighting it out with monsters and such. I have the early chapters up free on Patreon if anybody wants to take a look at the progress so far. At the moment it is about two-thirds done.
Book Links:
Everything completed so far can be found on my Amazon author page: https://www.amazon.com/Jaxon-Reed/e/B00Q9N5TQ2/
New stuff, coming out before anyone else sees it, is up on my Patreon page: https://www.patreon.com/jaxonreed. Subscribers get access to everything first, and my eternal gratitude for their support. It's still the least expensive way to access my body of work.
Finally, I have details on my web page about how you can join my Advance Review Copy team, sign up for my newsletter to be notified of freebies and deals, and find other free times at http://jaxonreed.com/free/.