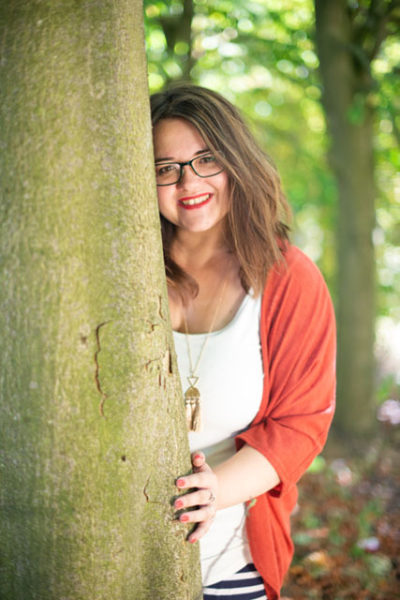 Please introduce yourself and your book(s)!
Hi. My name is Katie Epstein. I'm an author of urban fantasy, fantasy, and paranormal romance. I'm known for the Terra Vane series, and the paranormal romance Prophecy Child series. I also have a standalone novel out—a twisted fairytale based on the Cinderella story.
What is/are the story(ies) behind your book(s)?
I love the mythical and the supernatural when it blends with the world we know today. The Terra Vane series is about an Enforcer Field Agent who was rescued from a psychiatric hospital at the age of sixteen, and taken through a portal to a world known as Portiside: a place that sits in a dimension pocket where vampires, shifters and the Fey fled to many years ago before the Great Flood hit. Terra has the paperwork to get through Immigration Control on the portal so she can operate in both worlds. Not only does she get to fight the supernatural criminals, but she sometimes assists on FBI cases when on earth.
What inspires/inspired your creativity?
Music is one of the things that inspires my creativity. I have a playlist for each book, and if I hear a random song—usually on a TV show—I'm downloading it and adding it accordingly! I also love walks in the forest to get my inspiration flowing, and recently, while touring the Lake District, I had another idea come through that included islands and witches!
How do you deal with creative block?
I have the opposite problem at the moment. I have too many ideas and not enough time. This can be a frustration because my mood may change in the future, and I've lost the opportunity to write what I'm passionate about at the time. So I guess I need to type faster! If I have a creative block in a story, however, I step back, give myself time to let the idea come through. I listen to music, make time for myself to be still—the bath or shower is a great place to do this—and provide my imagination with an open door.
What are the biggest mistakes you can make in a book?
I've made hundreds. And I still make some today. When first starting out, I did so without an editor, not realizing I still had so much to learn. But eventually, after learning the hard way, I absorbed the knowledge from having an editor and grew as a writer. The other mistake I've made is trying to compare or listen too much to external influences. It's important to listen to advice and guidance, but you have to do so while staying true to yourself and your journey.
Do you have tips on choosing titles and covers?
Either go with quirky or short and sweet on the title. And invest in the cover. If the cover doesn't hook people, or people can't get behind it, the chances of anyone reading the story grows slim. I assess what's trending in the genre, and try and come up with a concept that's relative to my book.
How do bad reviews and negative feedback affect you and how do you deal with them?
Bad reviews and negative feedback always knock me for six. I don't think that will ever change. But the period for bounce back has gotten shorter. I accept it, and try to assess for any constructive criticism I can learn from. But I'm also beginning to understand that writing, like art, is subjective—even when it comes to grammar. I've accepted I need to learn my trade, to make the best possible experience for the reader, but my stories aren't going to tick every box for everyone. So, as long as I have faith my story, everything else will fall into place.
How has your creation process improved over time?
I'm still all over the place! But I've learned what works for me. That shifts and changes over time. Such as now, I'm learning as I work on different books from different genres. The need to be more organized is there now, but it can't be so structured where I can't maneuver. Yes, the structure is essential, but so is flexibility. So I've learned to manage my plotting and planning within a space I can comfortably work in.
What were the best, worst and most surprising things you encountered during the entire process of completing your book(s)?
Best: I would have to say reading the final copy before submission. This is when the result of all the hard work, blood, sweat and tears shows itself. Worst: Doubting myself. I lack confidence in my stories for one reason or another, and I hope that will disappear with time. But I always have to work through this. And it's so sneaky. It comes upon you when you least expect it. Most surprising: That I've written a book. I still can't believe it when I pull it off! But I suppose there is a magic in that, seeing what you're capable of and realizing each time that you have a gift you're able to embrace in order to deliver something others might appreciate.
Do you tend towards personal satisfaction or aim to serve your readers? Do you balance the two and how?
I think first and foremost it has to be personal satisfaction—another learn of mine. But of course, it also has to appeal to my readers. However, if I'm true to myself and find passion in what I write, my readers sense that when the story spills onto the pages with more definition, more intensity, giving them a better view into the world formed in my mind.
What role do emotions play in creativity?
For me, they play a huge role. I need to become invested. I need to feel upset for my characters, sad, or angry. I want to be on the journey with them so I can convey their emotions. I've cried before now when I've had to kill someone off!
Do you have any creativity tricks?
Writing prompts are great for this. They expand your mind, take you out your comfort zone, and get you thinking and writing in ways you wouldn't normally do. You can find a lot of writing prompts on the internet in such places as Pinterest.
What are your plans for future books?
I have plans to continue with the Terra Vane series for several books, and a spin-off is planned after that. I'm also releasing the second edition of the Prophecy Child series, and writing another twisted fairytale from the Far Far Away universe of mine. I have other projects in the pipeline, but I have to stay hush for now!
Tell us some quirky facts about yourself
I'm quite a spiritual person, loving the balance of science and mysticism.
I love swearing and dry wit.
Give me edgy romance with a bit of comedy, tragedy and happy ever after thrown in and I'm a goner.
I have a love/hate relationship with food—especially pizza and chocolate.
I love shows such as Rookie Blue, Castle, Haven, Modern Family, and believe we need more urban fantasy and paranormal romance on the TV screen.
And I wish for everyone to stray away from convention to find their own path. It's pretty awesome there.
For further information on my books and what's coming soon, people can visit www.katieepstein.com.