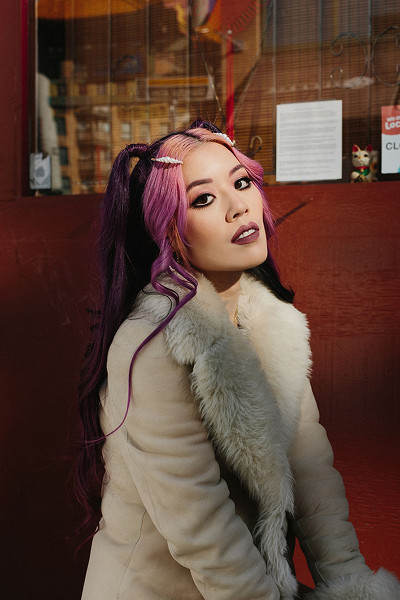 La Carmina is an award-winning alternative and Goth culture journalist, blogger and TV host. She runs the leading blog about Gothic travel, fashion and subculture (LaCarmina.com/blog), which was featured in The New York Times and Washington Post. La Carmina is the author of four books including The Little Book of Satanism: A Guide to Satanic History, Wisdom and Culture, published by Simon & Schuster. She received a journalism award from the Society of American Travel Writers, and has written about the Devil for CNN, The Daily Beast, Architectural Digest, Fodor's, and more. La Carmina appears on travel TV shows worldwide including Bizarre Foods, No Reservations, Taboo, Oddities, and The Today Show. She is a graduate of Columbia University and Yale Law School. Follow La Carmina's Gothic adventures in over 70 countries on LaCarmina.com and social media @LaCarmina.
# Please introduce yourself and your book(s)!
I'm La Carmina, an alternative / Gothic culture journalist and blogger. My fourth book – The Little Book of Satanism – comes out from Ulysses Press / Simon & Schuster right before Halloween. I started my La Carmina Blog in 2007 as a passion project, and all of my work grew from there. For well over a decade, I've been documenting my travels to Satanic destinations (like Salem, MA) and adventures with the lively Satanic community in Japan. This led me to sign a book deal to write an accessible guide to Satanism, focusing on Satanic history, culture, pop culture, and practices. You can find out more about The Little Book of Satanism and order it from worldwide retailers here.
# What is/are the real-life story(ies) behind your book(s)?
My book chronicles the development of Satanism from the Devil's precursors to his appearance in the Bible – tracing historical events involving Satan (and accusations of Satanism) to the modern Satanism of today. The Little Book of Satanism is a historical non-fiction that spans the centuries, so the riveting real life tales include the witch and werewolf trials, false accusations of Satanic serial killers and ritual abuse from the mid-to-late 20th century, The Satanic Temple's headline-grabbing activism today, and more.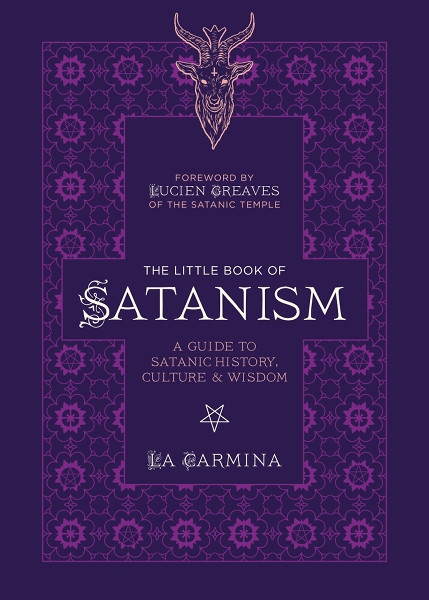 # What inspires/inspired your creativity?
I'm endlessly inspired by the creative people in my life, who I tend to meet through my long-time involvement in underground cultures worldwide. These Goths, punks, Satanists, drag queens and more are my friends and artistic collaborators.
# How do you deal with creative block?
Sleep is my secret weapon. If I feel stuck, I'll get a good night's sleep (I'm able to sleep long hours and lucid dream). This never fails to rejuvenate me and bring about new ideas and perspectives.
# What are the biggest mistakes you can make in a book?
If you're working with a publisher, don't be afraid to speak up and advocate for yourself. I learned how to do this over the years (this is my fourth book). It's important to be on the same page as your publisher, and be able to give feedback on the edits, layout, promo copy, marketing approach and more, to ensure that everything fits with you and your goals.
# Do you have tips on choosing titles and covers?
Go with a professional book designer, as they're knowledgeable about what makes a visually appealing and marketable cover. For instance, the cover for my upcoming The Little Book of Satanism has SATANISM in large central letters for easy readability. The design is elegant and purple, with subtle pentagrams and a goat-headed Baphomet with gentle eyes, as we didn't want the book to convey a fearsome or "heavy metal" aesthetic.
# How has your creation process improved over time?
Writing is a skill, and I've become more efficient over time at putting together copy, and structuring it for the best flow.
# What were the best, worst and most surprising things you encountered during the entire process of completing your book(s)?
I'm blown away by the positive reaction so far! When I announced my upcoming Satanic book on social media (@LaCarmina), hundreds of people replied with supportive messages, and told me they placed a pre-order. I'm grateful for their interest and encouragement.
# What are your plans for future books?
I'd love to keep on writing books, as this experience has gotten better each time. Since I work with a literary agent and major publishers, I'm not quite sure yet when we'll pitch the next book or what it will be about. I'll focus on The Little Book of Satanism and its release for now, and then take it from there.
# Tell us some quirky facts about yourself
In addition to my well-known interests in Goth fashion and alt / Satanic / Harajuku culture, I'm obsessed with sun protection, Italo Disco music, bad b-movies, and Miffy the cute bunny character!