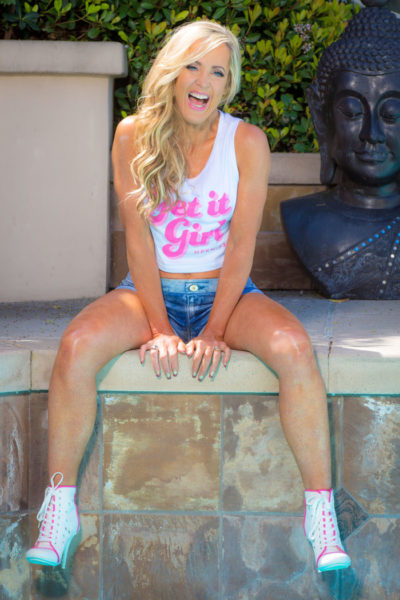 Please introduce yourself and your book(s)!
Linda Mitchell wants to help women reach a point of empowerment and glowing health. 55-year-old Linda is an Institute of Integrative Nutrition graduate and award-winning fitness competitor, women's health expert, and an elite obstacle racer. She collaborated on the fitness portion of the book Fat Flush For Life With mentor and New York Times bestselling author Ann Louise Gittleman. She is the author of The Sisterhood of S.W.E.A.T. and owns The Sisterhood of SWEAT (Women's Fitness Boutique), which opened in 2013. Her books "The Sisterhood of S.W.E.A.T.", "The SWEAT Project", podcast, and the studio are all about helping women build confidence and self-esteem and learning to feel 100% great about themselves.
What is/are the story(ies) behind your book(s)?
Well, I was raised in the Midwest, and I kind of started a roundabout way into fitness because my mother suffered mental health issues and was depressed. I would say her problems stemmed from a chemical imbalance within the body. I didn't really understand that as a kid growing up. I just knew that I had to be strong, that I didn't want to be depressed, and I basically kind of found fitness. I started doing some workouts and I thought, "Wow, that really makes you feel good, and maybe I won't suffer from depression like my mother did." And so that was sort of how I found my way into fitness, which then became such a backdrop for my whole entire life because it was like a lifeline. It's always been my go-to. It makes me strong through adversity.
I started Fitness when I was young, which it's a good thing that I had it, because I got into an abusive relationship, a nine year marriage, which was pretty rough. I don't think I would have made it through if I hadn't of had some empowerment through fitness. Being fit helped me to keep my positive attitude. A Fit healthy mental attitude helped bring me through, and I believe made me who I am today. That is where my mission started from. I literally started really getting into teaching and doing fitness and started doing it as a career, and basically, my whole mission after leaving the ex-husband was I wanted to help empower other women to have the confidence that they need so they don't get into situations or relationships or things that dis empower them. That they have the confidence that they're worth more and to know their worth.
I did 25 years as a group fitness director and a personal trainer before I was finally ready to take my mission and my vision forward to a greater level. My mission was helping women, so I opened The ChickFit Studio which has evolved into The Sisterhood of SWEAT.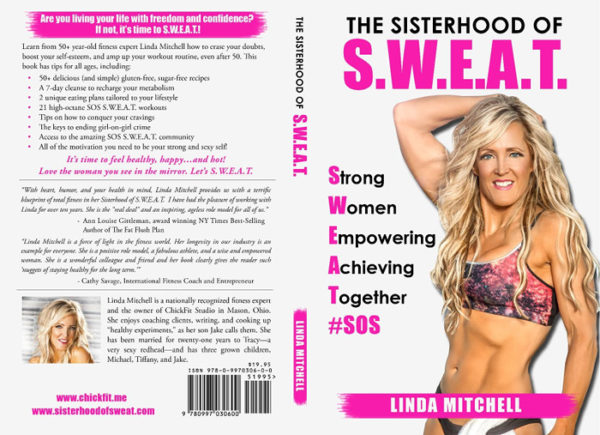 I don't think I realized how big the magnitude of what I wanted to do was. I just knew I wanted to help women, and there came a point where I just kind of took that leap. I stepped out of the rut of doing what I always did, which was have a safe, secure job in a big gym, and just decided that I was going to have a niche market just for women, and it was going to be about building their self-confidence and self-esteem and learning to feel 100% great about themselves from the inside out. So it wasn't just about hitting the weights or hitting the treadmill or looking good; it was about feeling good from the inside out and being able to support each other, love each other, have a community where we achieve together rather than compete with one another.
Women have made friendships through my boot camp community. I've been leading them for about 12 years, and I've been in-house in my new studio for about Five years. Today women that met in my bootcamp are like best friends.We support one another, we listen to each other, we have each other's back, and it's just built this community of strong women empowering achieving together
Could you tell us about your book and what inspired you to write your book and how you got started writing?
Well, I'll just tell you a little bit about how I started into being a writer, first of all. I was doing fitness competitions. I started at 40 years old. I'm a late bloomer.
One of the women that were a part of the Ms. Fitness USA organization had suggested that I write an article, and my first response was, "Well, I'm not a writer." You know? I was like, but, I thought about it, and I was like, "Well, I'll take a stab at it." So I began writing a letter to the owner of Ms. Fitness USA, and that ended up being my first article. She loved it. She put it in. And slowly but surely, I … well, I shouldn't say slowly. Pretty quickly I began writing a column, Fit Over 40, and I wrote that for 12 years for Ms. Fitness magazine.
I became hooked up with a New York Times bestselling author, Ann Louise Gittleman, and was teaching on her fitness cruises. She asked me, would I help write her next book. Fat Flush For Life, and so because I had taken the stab at the articles and then the column, and … So I thought, again, I was a little overwhelmed, but I was like, "Well, if she doesn't like what I write, then she can always be like, 'You know what? Sorry, Linda. That's not any good. We don't want you to write for us.'" So I thought, "What the heck? I'll go ahead, and I'll start writing."
Well, about 22,000 words later, I realized, "You know, I think I could write a book." I had always thought I was an article girl. I never really realized I had a book within me. And so basically I started, I wrote that with her, I wrote the Fat Flush For Life. Well, I didn't. I collaborated on the book, and then everything kind of evolved where I had this studio, and I would've never done any of that if it wasn't for just taking that first leap out in faith when I first just took a stab at it.
And I'll tell you what, writing really gives you a voice, because in fitness, there's a lot of people out there that have their shingle up, and to stand out, you can't just be like everyone else. You have to be you, and you need a voice. I believe that writing really gives you that, and it helps you to reach to make an impact upon others. I really felt like I had this mission within me where I wanted to reach other women, and that was my vehicle, was I'm going to write a book, I'm going to write this book, I'm going to make it all encompassing. The Sisterhood of S.W.E.A.T., strong women empowering achieving together is what the S.W.E.A.T. stands for. This is going to be bigger than me. I'm going to make this community where we can all be a part. And so I just began writing the book, but it really, the studio kind of came first and then the book. Does that make sense?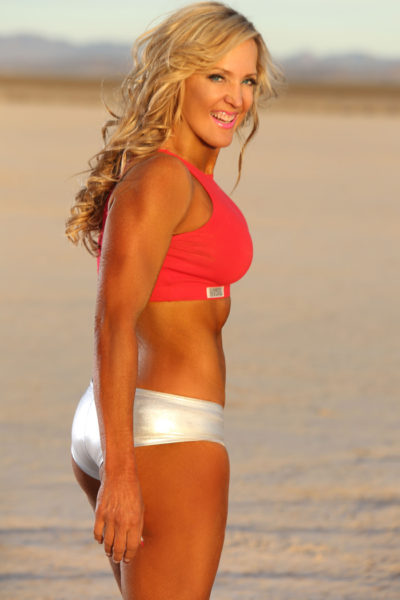 How did you overcome writers block and procrastination? Did you have any creativity tricks?
Writing, I had to make sure that I set aside the time to write, and also, to do it, for me, I found most of what I write is inspiration. And so I had to write, well, when I'm most inspired, I hate to tell you this, that is when I'm working out. So I would be at the track, and I literally would have my cell phone,the Note Pad on the cell phone, and the Dragon, which you could dictate into. I would just start speaking into my phone because the thoughts and the ideas for my book would just begin pouring out of me.
I literally wrote a lot of my book while working out, and then I would set aside time, I would let my husband know I'm going to write from X amount of time to this amount of time, because you have to first of all be inspired. If you're writing an inspirational book, it helps if you're motivated and you're inspired. And then on top of that, you have to set aside the time, because it does take time. Your words don't always automatically just fall out of you right when you sit down, so you have to take the time to get alone with your thoughts and give yourself time to write, and you need to do it regularly. It's like an exercise. It's like a discipline.
What did you find was the easiest process as well as the most surprising for you while writing your books?
The writing, just the writing and being myself. You know what? The other thing I think is you find a point in the book where you really start to flow and you trust yourself that your message is good, it's okay. Also I found the editing and copy writing a surprising process of growth. Realizing what to let go of and what to keep in your book can be little daunting at first. Like I literally had my copywriter, and she was trying to like, I guess … I can't think of the word. I don't want to say … well, water me down a little. You know? And I was like … And actually, the chapter that she wanted me to edit out is the favorite chapter in the book. It's the favorite chapter. Everyone always tells me they love the third chapter in the book.
So I said to her, "No, I think this is a real message that women need, they need to hear, and yup, it's staying in the book." But, you know what, I took some of her advice, I watered it down a little bit. A few things, I thought, "Yeah, she's probably right about that. This is a book about female empowerment. I need to reword a few things that I've put in here." So I took her advice, but yet, I still kept my voice, and I think that that's really key, when you do pick someone to help you to format or copyright, that you listen to what they say, but don't let them take away your voice because it's what makes you uniquely you.
What would you like first-time authors to know?
You know, when you're self-publishing, really setting yourself up before you even start writing the book for success is important. Knowing how to do like a pre-sale and getting the word out there and getting people to help you with your book launch, getting people to sign up saying, "Yes, I will support you and get the word out there about your book," and doing all the little pieces like that if you're self-publishing, or even if you are publishing through a publisher, you still have to do a lot of the groundwork and build up your social media. This was a whole another side that I didn't realize existed, and that was a learning process.
What do you think is important when deciding what you might to reach into the hearts and minds of readers?
I think one of the biggest things is to determine what your why is, why you're doing what you're doing. What is your burning message? You know, what do you feel like you just can't let go, that you really want to say to people, that you feel will serve them in some way or help them or meet a need, and then just don't be afraid to do it. Don't sit back in overwhelm, and don't sit back feeling everything has to be perfect before you start. Just get started, and it'll happen for you.
How has your creation process improved over time?
I really honed in on finding a book subject that will solve a problem, or be a solution for others. What I need to keep my creativity in flow. The processes I should do alone and the ones to outsource.
Books