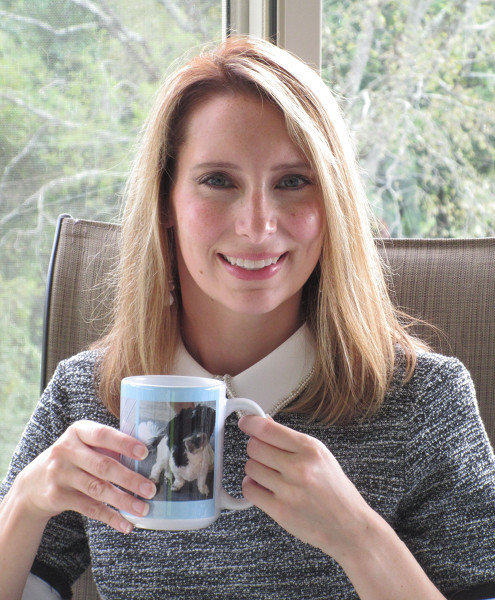 # Please introduce yourself and your book(s)!
Hi! I'm Nellie H. Steele, author of several different mystery series. I'm a college professor by day (in Statistics and Data Science!) and an author always! I write the Cate Kensie Mysteries, a cozy mystery series set in the Scottish Highlands following the adventures of history professor turned Scottish Countess, Cate Kensie, as she journeys across the pond to claim her new inherited castle (along with a few fun quirks!). Mystery abounds as Cate discovers the castle holds a unique and life-changing secret.
I also am the author of the Shadow Slayers series, a supernatural suspense mystery series featuring an ensemble cast of characters who band together to fit the darkness. This good versus evil series is sure to be a fun read for anyone who loves mystery with a supernatural twist.
My third series is the Maggie Edwards Adventures. This series follows Maggie Edwards as she travels the world in globe-trotting, pulse-pounding Indiana Jones style mysteries. Get ready for edge of your seat action as Maggie searches for archeological treasures and separates legend from truth.
My latest offering is the new Duchess of Blackmoore Mysteries series. This historical mystery follows the life (and adventures) of young Lenora as she turns from orphan to Duchess in this rags to riches tale with a supernatural twist.
# What is/are the real-life story(ies) behind your book(s)?
I write fiction, so (I hope) there are no real-life stories where people speak with the dead or live for centuries! However, Cate from the Cate Kensie Mysteries series was named after my late grandmother, Catherine. And Cate's dog, Riley, is a carbon copy of my own dog, Kylo (albeit, Riley may be better behaved!). Riley's good buddy, Bailey, is a match to my mom's dog, Finn.
Beyond that, my stories come straight from my imagination!
# What inspires/inspired your creativity?
Anything and everything! A movie scene, dialogue between two on-screen characters, real-life, my pets, even photos! The Duchess of Blackmoore series grew out of my love of a failed cover for another book. The mock-up simply didn't fit the book it was designed for but I fell in love with the cover and wanted to create a story to use it. I invented the character of Lenora and wrote an entire book simply to use that cover!
# How do you deal with creative block?
I'll jump around in my writing if I'm really blocked. It sometimes helps to write a different scene that's really shining in my mind even if it is out of order in the story (like writing the ending before the book's half-written or something similar). Sometimes I'll even to a different project entirely and write!
# Do you have tips on choosing titles and covers?
I may be the worst person to give advice on this! I struggle to select titles for most books! The method I've begun to use is to write any ideas I have and read them over and over. After a while a few will stand out. I may then modify these a bit until I find something I'm happy with. As far as covers, I trust my cover artist to come up a few great options for me to consider. After vetting through a few ideas, she usually comes up with one that I have an immediate draw to for the book. I also run the ideas through some readers to see what resonates with them (and hope it's the one I liked!).
# How do bad reviews and negative feedback affect you and how do you deal with them?
Every writer hates to see a negative review and I am no exception. Books are often a labor of love, so it's easy to feel every one-star review like a knife through the heart! I do read them even if they are painful and if there is anything I can glean from them to improve my future writings, I do! In many instances, it's simply a case of someone not enjoying my story or style. Not everyone will enjoy your work, some people like more description, some people like less. Some people love drama, some prefer action. It's just a fact, so I try to remind myself of the old adage, "You can't please everyone all the time!"
# What were the best, worst and most surprising things you encountered during the entire process of completing your book(s)?
The best thing I've encountered is the fans and people who love the books I write. Every positive comment, every person who reaches out to say they've loved a book or a character I've created makes the entire process worth it. I love speaking with those who have enjoyed my books. The most surprising thing was how much I LOVE writing. When I began, I wondered if I would continue or even if I would make it through the first book. Now, I can't imagine my life without writing. It provides so much for me. It's become a meaningful part of my day and one of the best parts of it! I think the worst thing I've encountered are mean-spirited reviews. I appreciate constructive criticism and while I understand and appreciate that my work won't be every reader's cup of tea, some reviews can be really biting!
# Do you tend towards personal satisfaction or aim to serve your readers? Do you balance the two and how?
I think it's important to focus on both. I love to write stories readers will enjoy and connect to, but there are some stories that I have to tell. I try to focus on bringing characters to life that people will enjoy reading and I let them tell me their story. If I can stay true to the characters and make them three-dimensional, with positives and negatives, strengths and flaws, most people can connect with them and find something to latch on to and enjoy in the story.
# Do you have any creativity tricks?
I actually write while I watch TV. When I began writing, I intended the first book I wrote to be birthday present for my mom. I wasn't sure if I'd finish it or If it would be any good. And I wanted it to be a surprise to everyone, especially my mom! So, I would write in front of the TV so no one was any the wiser as to what I was doing. Usually the background noise sets the mood for me to write and it may even provide inspiration for what I'm writing!
# What are your plans for future books?
I plan to continue with the four series I'm working on as a start. There's a lot more to come for each character in these series! I've also got a few other story and series ideas lurking around on my to-do list. In particular, I hope to bring a mother-daughter cozy mystery series to life in the near future!
# Tell us some quirky facts about yourself
In addition to writing and teaching, I also have a rescue home for animals. We have fourteen pets in the house right now (6 dogs, 8 cats). They are all rescues. While we never planned on taking care of this many animals, I can't turn down a furry face in need.
Nellie Steele is my pen name, created using my great-aunt's nickname and my grandmother's maiden name. My first published character is also named after my grandmother. I write under a pen name because I have non-fiction publications under my real name. My "day job" is a college professor of Statistics and Data Science. I hold a Ph.D. in Statistics (about as far from creative writing as you can get!) and write technical guides on using software for statistical analysis.