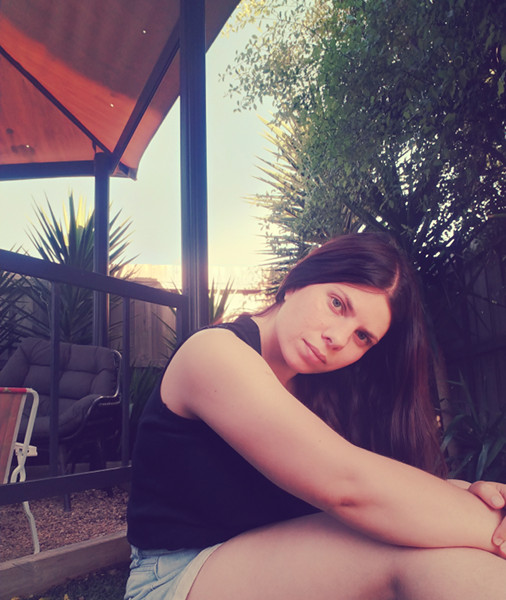 # Please introduce yourself and your books.
My name is Rebecca Rossi and I am an author/blogger from Melbourne, Australia. I have written two books (with a third in the works) that are part of a trilogy.
I've written a YA fantasy series that follows a bunch of teenagers that form an astrological group in order to learn more about themselves and each other. It isn't long before they realise, they were brought together for a higher purpose and their mission involves saving the universe! The first book is named Astrology Pond and the second is Facing the Stars. The final book in the trilogy will be called Aligning the Signs.
# What are the real-life stories behind your books?
I have always been interested in astrology and fantasy novels. I have read many non-fiction books centred around the zodiac, but never a fantastical series about it. I decided to write on what I've always wanted to read.
# What inspires your creativity?
Anything and everything. Reading, travel, movies, television shows, nature, online influencers and more. I take inspiration from the world around me.
# How do you deal with creative block?
I take a much-needed break. Trying to force something that isn't there is exhausting. I know it will return, so I remain patient and continue to read/blog until I feel ready once again.
# What are the biggest mistakes you can make in a book?
Not writing a draft. You definitely want to take your time with your story and revise as much as possible. Ask the people around you to read various chapters with fresh eyes so you can get different perspectives. I would also strongly advise on including plenty of representation and diversity in your characters.
# Do you have tips on choosing titles and covers?
For my second novel (Facing the Stars), I found the cover art on Instagram. It matched the story perfectly. I contacted the artist and paid for her work. For my third novel, I hired a freelance artist to design the cover. I would recommend getting an expert to execute your vision, use Pinterest boards or scour hashtags on social media. As for titles, I like them to have a theme. If you're writing a series, you can build on the titles. For example: Gate of Earth, Gate of Water, Gate of Fire. If you're writing a stand-alone novel, write down a few titles and see which one grabs you the most. It should encompass the meaning and feel of your story.
# How do bad reviews and negative feedback affect you and how do you deal with them?
There are two types of negative reviews. One is constructive, the other is mean. The mean ones I ignore. The constructive ones I listen to. I can only improve as a writer from feedback that is helpful.
# How has your creation process improved over time?
I found my creative process improved once I strayed from my comfort zone. I try to read from a wide variety of genres and topics. In the last year, I've begun interviewing authors on my blog. Reading about their own creative processes has inspired me to evolve in my own life.
# What are your plans for future books?
I am a huge horror fan. I would love to move away from fantasy and write a steamy but spooky novel about a woman being possessed by an incubus. As the possession develops, she begins to confuse lust with losing herself.
# Tell us some quirky facts about yourself.
I love to match my bookmark with the book I'm currently reading, I host a horror themed book club on Instagram: @you.ll.read.too.bookclub and I am a big fan RuPaul's Drag Race!