I'm Robin Yardi, author of the non-fiction picture book They Just Know: Animal Instincts and the absolutely- not-non-fiction middle grade novels The Midnight War of Mateo Martinez and Owl's Outstanding Donuts . Both of my novels for children are contemporary fantasies that take kids on adventures and tangle them up in mysteries that begin in their own backyards. And all of my books share a creative seed. Animals. Whether it's butterflies or sharks or trike-stealing skunks I think my best ideas begin with my love of the natural world.

A Great Horned Owl
During my first visit to Big Sur in 2014 I knew I would write a book about the place and its animals. Bright yellow banana slugs oozed around the redwoods, deep blue Steller's jays squawked and stole food, soft brown sea otters bobbed off shore. Before I even got home I was writing notes for a campground caper, calling it The Slugs of Big Sur. I didn't make anything out of it. It was missing something. I knew it was.
Two years later I saw a tweet by Teagan White, the artist who created the cover for The Midnight War of Mateo Martinez. It was about a dream. It was about an owl stealing pink frosted donuts. It was an image I loved. "This sounds like my kind of story!" I told her.
https://twitter.com/teaganwhite/status/720093669282357248
But it was more than a year later that I wrote the first words of the manuscript that would become Owl's Outstanding Donuts. I took a walk with my daughter on a windy road above the sea and remembered that dream of Teagan's. And a grouchy but good-hearted donut-loving owl appeared in my imagination. Suddenly, after three years, I knew what my Big Sur book would be about. That owl hooted and the story was there, waiting to be written.

Now Owl's Outstanding Donuts is a real mystery with a sweet young sleuth, strange suspects, and dozens and dozens of donuts. When an owl taps on Mattie's window one night, she looks out to see a shady duo dumping gloop into the water. And soon Aunt Molly is framed for the glooping! With help from her friends, Mattie sets out to find the real culprits. Along the way she befriends Alfred, that outstanding owl, and faces the fears that have followed her since her mother's passing.
(VideoPress.com video) Grand Opening OOD
Creative Block
Like all creative people there are times when, as much as I'd like to be, I'm just not being very productive. Three years elapsed between my wish to write an amazing adventure for kids set in Big Sur and my even writing a word of that story. Sure, I was working on other manuscripts. I revised and published my book The Midnight War of Mateo Martinez in that time. But my Big Sur story was a like a lump of yeasty dough, rising in the back of my mind.
Sometimes you just have to wait for your story to rise.
Sometimes you have to go for long walks and laugh at other people's dreams and listen for owls with eyes like gold donuts in your own backyard.
Baking a Book
My creative process has become more practiced over time. I've come to rely on outlining like I would a really good recipe. I start with my idea, my inspiration, and wait until I've collected all the important ingredients before I begin. I know I will need:
– an evocative setting

– a crime or a mystery!

– an amazingly weird animal or two

– a sympathetic kid character with a past… and a future that I can see
I only start writing when I have all of those things present in my mind. And when I do, I write just a few pages. Like a taste test. Does the story seem salty? Does it seem sweet? Am I ready to bake? Then I'll write a very simple outline. Just a list of ten things, ten plot points or emotional moments that I want in the story. I make sure those ten things will build to a satisfying logical and emotional conclusion before I roll up my sleeves and create a more formal outline. If I can't make that list, I know the book will only be half-baked. Maybe it's just missing one ingredient. Maybe in a few more years I'll be able to bake that book. Maybe.
A Cook's Creativity Tip
Once I have my simple exploratory outline finished and all my ingredients lined up I begin working on a more detailed chapter-by-chapter outline. And I name my chapters before I really know what's going to be in them—the chapter headings in Owl's Outstanding Donuts are decadent donut descriptions—and then I have to work that name into the chapter and the plot somehow. Figuring out how to accomplish that is like a puzzle and it prods me into being inventive in ways that surprise and please myself, which makes me think those moments might do the same for a reader.
One of my favorite moments of the book was prodded into existence by deciding that a particular chapter was going to be named for shimmery gold leaf encrusted chocolate donuts, which remind my young protagonist of golden owl eyes and her mother all at once. I don't think that moment would exist if I had written the chapter first, without naming it after the Golden Galaxy donut.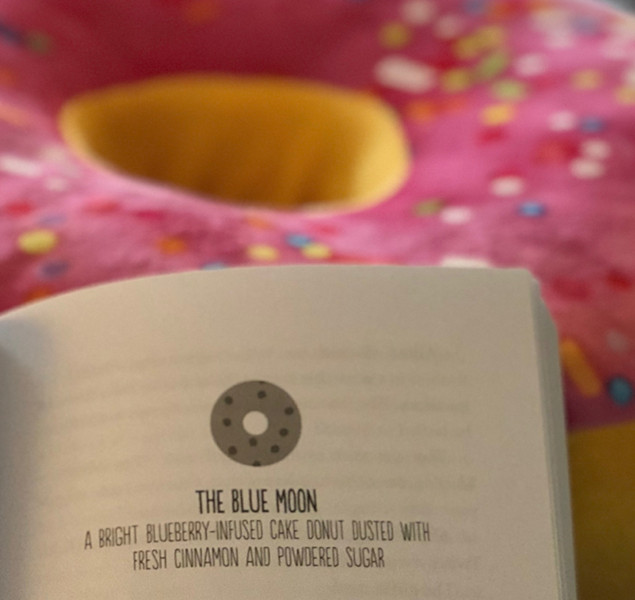 The Tastes of a Young Reader
When I write I always put my reader first. I think about what a kid will like to read about. I think about how much time I have to catch their attention. I think about what might be hard for them. This doesn't mean I'm setting aside my own desires as a writer. I'm not writing knock-knock jokes and oddball animals and pesky little siblings and best friends and secret forts and baked goods into my books even though I don't like them. I'm remembering all the things I loved as a young reader and making sure I'm giving them back. I find that idea, of satisfying a kid reader's desires, extremely fulfilling.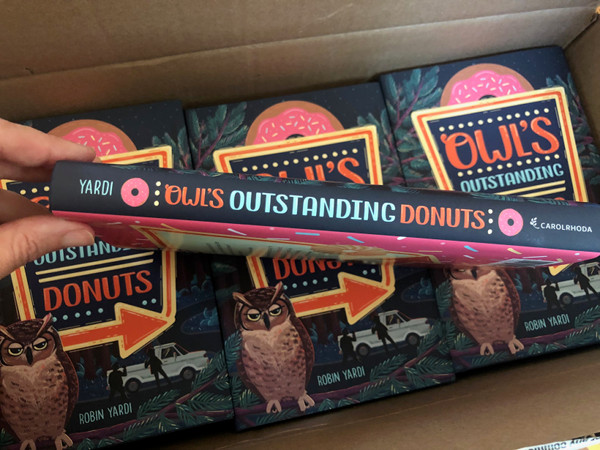 The Baker
I live in Santa Barbara with a giant sulcata tortoise, a rosy Bourke parakeet, a leopard gecko, a tame koi fish (he likes to be pet), a bunch of chickens and one very bossy turkey. I feed the neighborhood birds and squirrels and chipmunks and deer and in the spring two very lucky mallard ducks. I'm currently working on a new book filled with giant tortoises, swimming iguanas, and a very spirited flock of pink flamingoes.
Website: www.RobinYardi.com
Twitter: https://twitter.com/RobinYardi
Instagram: https://www.instagram.com/robinyardi/