By Steven M. Barrett
A Hidden Mickey is an image of Mickey Mouse that is subtly placed by Disney Imagineers and artists into the intricate detail of Disney property, which includes the Disney theme parks, water parks, restaurants, shops, and anywhere else on Disney property. The image blends into the surroundings and may be difficult to spot. Most common is the famous three-circle head and ears, which I refer to as the "classic" Hidden Mickey.
Here's one of my favorite classic Hidden Mickeys – you can spot it along the Toy Story Mania ride in Disney's Hollywood Studios in Orlando (and in Disney California Adventure in Anaheim). On the ride, watch (with or without your 3D glasses) for the screen with target balloons in front of the volcano spewing lava. If you pop the middle 100-point balloon on the second tier, a faint classic Mickey appears on the rear surface in the lava behind the balloons. (The photo was acquired without benefit of 3D glasses, leading to extra circles and zeros).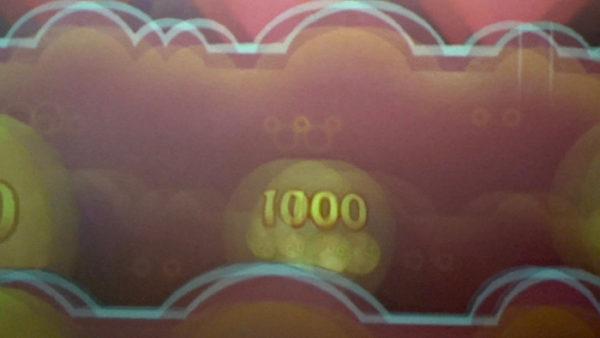 Other representations of Mickey may also count as Hidden Mickeys, such as his face, body, side profile, gloves, shoes, handprints, or any other reference to the Main Mouse. Other Disney characters may be hidden as well; you can find Hidden Minnies, Goofys, Donald Ducks, Tinker Bells, etc.
Here's a great side-profile Hidden Mickey as a greenish continent on a blue planet. Find it on a wall along the entrance queue of Buzz Lightyear's Space Ranger Spin in the Magic Kingdom, Walt Disney World.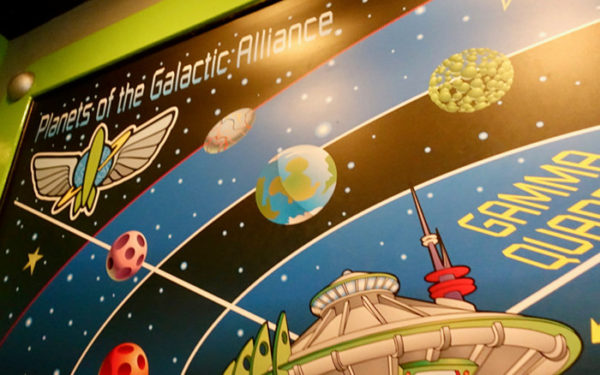 And here's Tinker Bell – on the left side as you exit Magic Kingdom's Big Thunder Mountain Railroad (in the exit closest to the Standby line entrance). A cutout in the reddish rock resembles a side profile of Tinker Bell. She stands facing to your left, with her wings behind her.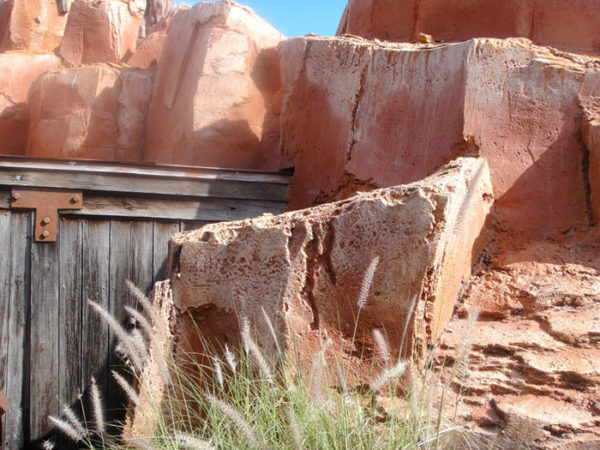 Sadly, Hidden Mickeys are lost as well. This photo shows one of my favorite Lost Hidden Mickeys. It's a tiny image of Mickey's face – he's looking up and to the left – in green neural tissue painted on a wall mural that was above the entrance to the previous attraction Body Wars in Epcot.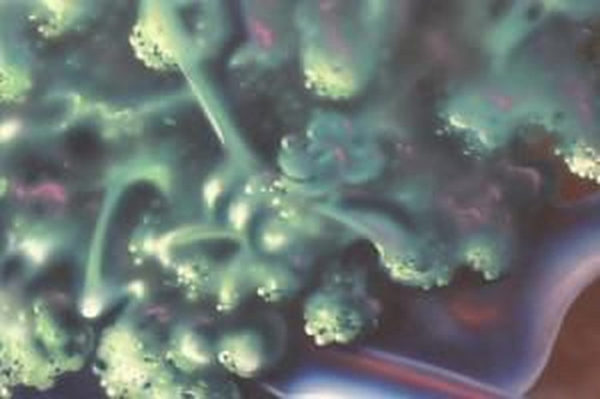 Hidden Mickeys probably started as Epcot was being built in the early 1980s. Disney Management wanted to keep the Disney Characters (Mickey, Minnie, et al.) in the Magic Kingdom, since Walt Disney had envisioned Epcot as a more adult theme park. So, maybe as an inside joke, Imagineers smuggled Mickey Mouse into Epcot! They began to insert Hidden Images of Mickey during Epcot's construction. In the late 1980s, Cast Members (Disney employees) and guests began to notice these subtle images of Mickey, and the quest to find Hidden Mickeys had begun. During the 1990s, the quest gained momentum as the Disney Magazine and a number of unofficial Disney websites covered the Hidden Mickey game for the general public.
Initially, Hidden Mickeys were not acknowledged by Disney, who wanted the guest to feel immersed in the fantastic environments created by the Imagineers. For example, along the entrance queue of Expedition Everest at Disney's Animal Kingdom in Florida, Disney wanted guests to feel like they'd been transported to the Himalayas – not distracted by the search for Hidden Mickeys!
In recent years, Disney seems to have softened its opinion about the Hidden Mickey game. After all, guests frequently ask Cast Members about the Hidden Gems, and in Disney's eyes, the guest comes first! Now, the topic of Hidden Mickeys comes up at times during or after Imagineering planning meetings about upcoming Disney Park projects. As long as guests are interested, new Hidden Mickeys should continue to appear. Today, there are legions of Hidden Mickey hunters from all over the U.S. and abroad.
Hidden Mickeys are anticipated in any new Disney construction or refurbishment. So, the number of newly discovered Hidden Mickeys continues to grow, but Disney itself has never kept an official catalogue of Hidden Mickeys. Disney Imagineers and area managers place them and then sit back and wait for folks like us to find them!
[Steven M. Barrett has been a Disney Parks fan for over 25 years. He's the author of the Hidden Mickeys Field Guide Book series: Walt Disney World, the Disneyland Resort, and the Disney Cruise Ships. The books are organized as scavenger hunts that are arranged to help you efficiently navigate the parks to minimize waits in line as you hunt for the elusive Mouse. Steve also has Hidden Mickeys iPhone apps (Walt Disney World and Disneyland). Since Hidden Mickeys come and go, Steve regularly updates the books, apps, and his website: www.HiddenMickeyGuy.com.. The books are available in book stores, and the books and apps are available online, including from his website. The latest book editions contain the following numbers of Hidden Mickeys: Walt Disney World 1100, Disneyland 460, and the Disney Cruise Ships 400. Find Steve and his wife Vickie on Facebook (Hidden Mickey Guy), Twitter (@hiddenMickeyguy), Instagram (@hiddenmickeyguy), Pinterest (HiddenMickeyGuy), and YouTube (hidden mickey guy).]