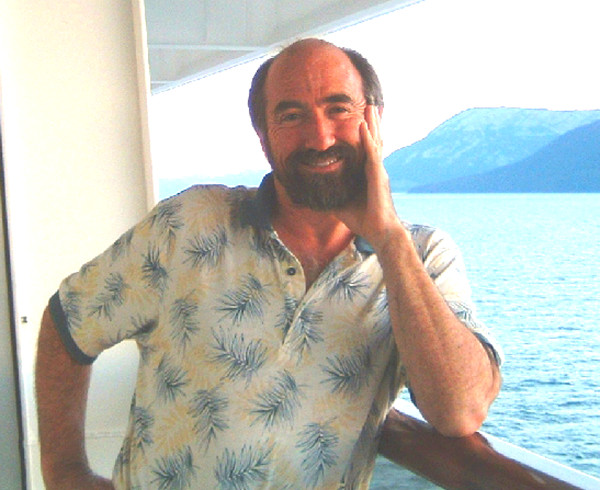 Please introduce yourself and your book(s)!
I AM A PROFESSOR EMERITUS OF PSYCHOLOGY AT CALIFORNIA STATE UNIVERSITY, DOMINGUEZ HILLS WHERE I HAVE TAUGHT AND DONE RESEARCH FOR 45 YEARS.
What is/are the real-life story(ies) behind your book(s)?
I HAVE WRITTEN 7 BOOKS AND ALL ARE CENTERED AROUND THE CONCEPT OF THE IMPACT OF TECHNOLOGY ON OUR WORLD. I STARTED STUDYING THIS TOPIC–ORIGINALLY CALLED "COMPUTERPHOBIA"– IN 1984 AND WATCHED AS IT MORPHED INTO TECHNOPHOBIA (WHEN OTHER GADGETS GAME OUT WITH DIGITAL DISPLAYS LIKE VCRS), TECHNOSTRESS AND THEN INTO TECHNOLOGY ADDICTION AND OBSESSION SINCE NOBODY WAS AFRAID ANYMORE BUT THEY WERE "HOOKED" ON TECHNOLOGY. MY BOOKS ARE ALL CENTERED ON RESEARCH FROM THE GEORGE MARSH APPLIED COGNITION LAB WHICH HAS STUDIED MORE THAN 100,000 SUBJECTS IN THE U.S. AND 22 COUNTRIES.
THE LAB IS A STORY UNTO ITSELF. IN 2008 TWO OF MY COLLEAGUES, DR. MARK CARRIER AND DR. NANCY CHEEVER, WERE STUDYING THE IMPACT OF TECHNOLOGY IN A VARIETY OF WAYS WITH OUR OWN SMALL GROUPS OF STUDENTS. WANTING TO COMBINE OUR WORK INTO ONE LAB SETTING WE WENT LOOKING FOR "SPACE" WHICH WAS AT A PREMIUM ON OUR CAMPUS. DOWNSTAIRS, ON THE BOTTOM FLOOR WAS AN OLD ROOM WITH A QUITE LARGE ANECHOIC CHAMBER PLUS DOZENS OF ANCIENT COMPUTERS, BOXES OF CLASSROOM MATERIALS (MANY PRINTED IN THAT OLD STYLE MIMEOGRAPH PURPLE PRINT!) AND OTHER ASSORTED JUNK INCLUDING HOLLERITH PUNCHCARDS. MARK AND I CLEARED OUT THE JUNK UNTIL WE GOT TO THE REMAINING CHAMBER. MARK HAD THE BRIGHT IDEA OF OFFERING IT FREE TO ANY CSU CAMPUS WHO WOULD COME AND GET IT. CSU BAKERSFIELD CAME AND DISMANTLED IT TO BE ABLE TO GET IT OUT OF THE ROOM AND TOOK IT AWAY. NOW, TO OUTFIT THE EMPTY ROOM BECAME A CHALLENGE. THROUGH MANY TINY AMOUNTS OF MONEY THAT WE SCRAPED TOGETHER WE WERE ABLE TO GET A CONFERENCE TABLE, SOME CHAIRS (MOST OF WHICH FELL APART WITHIN A COUPLE OF YEARS), SOME COMPUTERS, ETHERNET HOOKUPS AND, OF MOST IMPORTANCE, A COFFEE POT AND A MICROWAVE OVEN (GIFTED BY THE FOUNDING FACULTY). ALONG THE WAY WE HAVE ADDED A NEUROSCIENTIST AND A PROFESSOR OF MARKETING TO OUR GROUP AND HAVE WORKED WITH 8-12 STUDENTS A YEAR WHO MUST ASPIRE TO GAIN A PH.D. WE HAVE BEEN AMAZINGLY SUCCESSFUL WITH QUITE A FEW OF OUR GMACERS NOW HAVING THEIR PH.D. DEGREES AND WORKING AT CAMPUSES ALL AROUND THE COUNTRY AND MAKING THEIR OWN LABS. MORE GMACERS ARE IN PH.D. PROGRAMS AS WE SPEAK AND WE ALL FEEL PROUD THAT THEY HAVE MANAGED TO BE INVITED TO SOME OF THE TOP CAMPUSES IN THE COUNTRY TO PURSUE THEIR POSTGRADUATE EDUCATION.
ALTHOUGH I HAVE WRITTEN 7 BOOKS I WOULD LIKE TO FOCUS ON THE MOST RECENT TWO AS THEY ARE MORE UP TO DATE AND MORE INTERESTING TO THE GENERAL PUBLIC (THE TWO PRIOR TO THAT WERE FOR PARENTS AND TEACHERS, RESPECTIVELY). "iDISORDER: UNDERSTANDING OUR OBSESSION WITH TECHNOLOGY AND OVERCOMING ITS HOLD ON US" CAME FROM RESEARCH WE DID IN OUR LAB LINKING TECHNOLOGY USE WITH SYMPTOMS OF MANY PSYCHIATRIC DISORDERS. DR. MARK CARRIER, DR. NANCY CHEEVER AND I TOOK THOSE DATA AND CREATED CHAPTERS ON EACH PSYCHIATRIC DISORDER AND HOW TECHNOLOGY USE MIGHT BE IMPACTING THOSE SYMPTOMS AND HOW TO AVOID PROBLEMS. IT WAS AN INTERESTING PROCESS WORKING ON A BOOK WITH OTHER PEOPLE AS I HAD NOT DONE SINCE MY FIRST BOOK. WE ALL HAD DIFFERENT WRITING STYLES AND MINE IS MORE "FOLKSY" THAN THEIRS SO I HAD TO COMPROMISE SOME OF MY FOLKSINESS FOR THEIR ACADEMIC WRITING AND THEY HAD TO ADOPT A BIT MORE OF MY FOLKSY PROSE. THE BOOK (PUBLISHED IN 2012) STILL HOLDS UP TO CURRENT ISSUES AND HAS SOLD AMAZINGLY WELL AND CONTINUES TO DO WELL IN SPITE OF ITS AGE.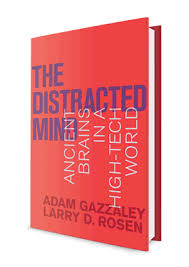 "THE DISTRACTED MIND: ANCIENT BRAINS IN A HIGH-TECH WORLD" WAS A TOTALLY DIFFERENT EXPERIENCE. WE HAD NO DATA ON BRAIN RESEARCH (ALTHOUGH THROUGH A GENEROUS GRANT FROM OUR CAMPUS PRESIDENT WE NOW HAVE A LAB CAPABLE OF DOING NEUROSCIENCE RESEARCH) BUT HAD AN IDEA OF HOW TO TIE IN BRAIN RESEARCH WITH OUR LAB RESEARCH. I WENT LOOKING FOR A NEUROSCIENTIST TO CO-AUTHOR THE BOOK. FOUND ONE I KNEW AND HE AGREED TO WORK WITH ME BUT BACKED OUT BEFORE WE COMPLETED A PROPOSAL. THEN I WENT TO A CONFERENCE WHERE I WAS A KEYNOTE SPEAKER TO A CROWD OF 2200 PSYCHOLOGISTS. NOW YOU HAVE TO KNOW THAT I DON'T LIKE CONFERENCES MUCH AT ALL. I CAN'T STAY FOCUSED ON THE TALK SO I OFTEN JOT NOTES ON FUTURE STUDIES OR JUST DOODLE. DECIDED TO GO TO A TALK BY THE LATE CLIFF NASS FROM STANFORD WHO HAD DONE SEMINAL WORK ON MULTITASKING. STUCK IN THE MIDDLE OF A ROW I WAS NOT ABLE TO GET OUT BY THE TIME THE NEXT SPEAKER STARTED SO I DOODLED SOME MORE. SUDDENLY I REALIZED THAT HE WAS NOT ONLY AN ENGAGING SPEAKER BUT HIS WORK WAS TOP NOTCH AND, HE WAS A NEUROSCIENTIST WITH AN MD AND A PH.D. I CONTACTED DR. ADAM GAZZALEY AS SOON AS I GOT BACK TO MY ROOM AND HE FIRST SAID HE WAS TOO BUSY AND THEN SAID HE WOULD READ IDISORDER AND SEE IF HE FELT THAT WE COULD MATCH OUR STYLES. AFTER A FEW MONTHS HE AGREED AND WE WERE ON THE ROAD. HE EVEN CAME WITH A TITLE THAT HE HAD USED IN A PBS DOCUMENTARY ABOUT HIS WORK. WITH HIS CREDENTIALS I ASKED HIM TO BE THE FIRST AUTHOR.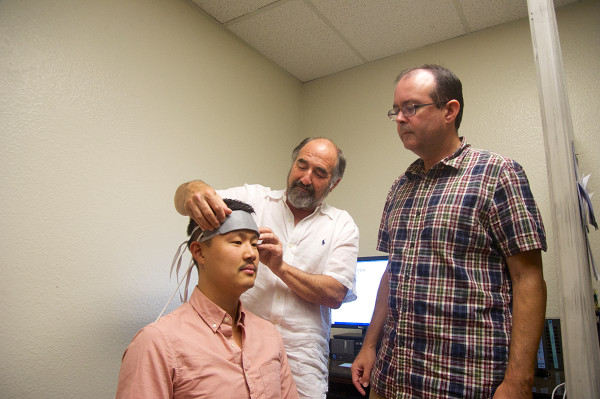 OUR JOURNEY FROM THERE TO OUR BOOK WAS A LONG AND WINDING ROAD. AFTER A BIDDING WAR WE SIGNED A CONTRACT WITH A SMALL IMPRINT OF A NAMELESS TOP 5 PUBLISHER FOR AN ADVANCE THAT INDICATED THEY HAD BIG PLANS FOR THE BOOK. WE VISITED WITH THEIR EDITOR AND HAD A GREAT CONVERSATION AND BEGAN TO WRITE. THEY PRETTY MUCH LEFT US ALONE BUT OUR EDITOR MOVED ON AND WE GOT A NEW ONE WHO ALSO LEFT US ALONE. WHEN WE SUBMITTED THE ENTIRE MANUSCRIPT THE PUBLISHER DECIDED TO UNCEREMONIOUSLY REJECT IT EVEN THOUGH WE FOLLOWED THE PROPOSAL OUTLINE AND THEY HAD SEEN CHAPTERS ALONG THE WAY. AND THEY WANTED THEIR ADVANCE BACK! WE TALKED TO ATTORNEYS, WE GOT ANGRY AND YELLED AT THEM THROUGH EMAIL AND ON THE PHONE BUT THEY STUCK TO THEIR GUNS. LATER WE DISCOVERED THAT THEY HAD BEEN BOUGHT BY A LARGER COMPANY WITH A NEW DIRECTION THAT DIDN'T INCLUDE OUR TYPE OF BOOK. LUCKILY ADAM HAD BEEN APPROACHED DURING THE WRITING PROCESS BY A SENIOR EDITOR AT MIT PRESS AND WHEN HE SAW THE BOOK HE LOVED IT AND FINALLY, TWO PLUS YEARS LATER "THE DISTRACTED MIND" SAW THE LIGHT OF DAY AND HAS SINCE BEEN TRANSLATED INTO SIX LANGUAGES INCLUDING GERMAN, ITALIAN, RUSSIAN, CHINESE, TURKISH AND ROMANIAN. IN 2016 IT WAS AWARDED THE PRESTIGIOUS PROSE AWARD FOR THE BEST BOOK THAT YEAR IN NEUROSCIENCE.
What inspires/inspired your creativity?
WHEN I STARTED DOING RESEARCH ON THE IMPACT OF TECHNOLOGY I STUDIED AREAS WHERE I SAW MY CHILDREN AND MYSELF USING TECHNOLOGY INCLUDING VIDEO GAMING, ONLINE DATING, THE THREAT OF Y2K (REMEMBER THE FEARS OF ELEVATORS STOPPING AND PLANES FALLING FROM THE SKY?), EDUCATION, THE WORKPLACE AND MANY OTHERS. THOSE RESEARCH STUDIES ALWAYS INSPIRE ME SINCE I FIRST AND FOREMOST CONSIDER MYSELF A SCIENTIST. EACH BOOK WAS INSPIRED BY SOMETHING IN MY PERSONAL WORLD.
How do you deal with creative block?
FUNNY BUT I DON'T SEEM TO GET WRITER'S BLOCK BUT I THINK THAT IS DUE TO MY WRITING PROCESS. I AM A COMPULSIVE COLLECTOR OF RESEARCH ARTICLES AND POPULAR PRESS WRITINGS AND FILE THEM IN FOLDERS. I CURRENTLY HAVE 7,000 ARTICLES IN MY COMPUTER FILES. FIRST, I GO THROUGH THE ARTICLES IN RELEVANT FOLDERS AND PUT THEM IN A FOLDER ON MY DESKTOP. THEN I READ EACH ONE AND TAKE NOTES. AS I AM TAKING NOTES MY BRAIN SEEMS TO FILTER THROUGH THEM AND COME UP WITH SECTIONS FOR THAT TOPIC WHICH I PUT IN ANOTHER DOCUMENT. THEN I COPY AND PASTE MATERIALS FROM USUALLY 30-50 PAGES OF NOTES INTO THE OUTLINE TOPICS AND DOUBLE STRIKE THE NOTES THAT I COPY SO I KNOW THEY HAVE BEEN COPIED. BY THE TIME I HAVE COPIED ALL NOTES I AM READY TO WRITE AND THE WRITING USUALLY FLOWS QUITE EASILY SINCE THE WHOLE PROCESS IS DESIGNED TO CONCEPTUALIZED THE FLOW OF THAT CHAPTER. IT USUALLY TAKES ME ABOUT THREE OR MORE WEEKS TO TAKE NOTES AND ONLY ABOUT A WEEK TO WRITE A CHAPTER DRAFT.
What are the biggest mistakes you can make in a book?
YOU NEED THREE THINGS TO WRITE A READABLE BOOK: (1) AN OVERALL IDEA OF THE THEME AND STYLE OF THE BOOK, (2) A PLAN FOR HOW THE BOOK WILL FLOW FROM CHAPTER TO CHAPTER AND (3) LARGE CHUNKS OF TIME EACH DAY OR AT LEAST 4-5 DAYS A WEEK TO WRITE UNINTERRUPTED. PEOPLE WHO I HAVE TALKED TO WHO "ALMOST HAVE A BOOK READY TO SUBMIT" OFTEN FAIL BECAUSE THEY ARE PERFECTIONISTS AND EACH SENTENCE NEEDS TO BE WRITTEN AND REWRITTEN UNTIL PERFECT. I WRITE IMPERFECT SENTENCES AND PARAGRAPHS KNOWING THAT WHAT IS CRITICAL IS GETTING A DRAFT. PERFECTION COMES DURING THE EDITING PROCESS.
Do you have tips on choosing titles and covers?
TITLES SHOULD BE CATCHY. I HAVE MADE FUNNY ONES (ME, MYSPACE AND I), USED FORWARD THINKING ONES (REWIRED), MADE UP WORDS (iDISORDER) AND USED AN ALREADY SUCCESSFUL NAME (THE DISTRACTED MIND). COVERS ARE TRICKY. THE PUBLISHERS ALWAYS HOLD THE RIGHTS TO CHOOSE THE COVER AND THE AUTHOR(S) GET CONSULTATIVE RIGHTS ONLY. THIS WAS NEVER MORE PROBLEMATIC THAN WITH "ME, MYSPACE AND I" WHICH WAS ABOUT PARENTING TEENS AND PRETEENS WHO WERE USING TECHNOLOGY IN WAYS THAT WERE NOT HEALTHY FOR THE CHILD OR THE FAMILY. THEIR FIRST COVER SHOWED A BABY CRAWLING TOWARD A COMPUTER AND I COMPLAINED THAT THIS HAD NOTHING TO DO WITH BABIES. THEN THE NEXT ONE SHOWED TWO 8-YEAR-OLDS ON A COMPUTER AND AGAIN I POINTED THEM TO THE CONTENT WAS FOR PARENTS OF PRETEENS AND TEENS. FINALLY, THEY PRODUCED A COVER WITH WHAT APPEARED TO BE A 14-YEAR-OLD ON HER PHONE WITH HER COMPUTER IN FRONT OF HER. MY COMMENT: "WELL AT LEAST SHE HAS BREASTS!"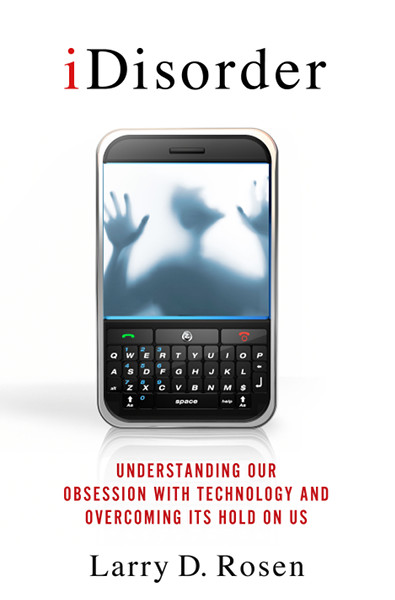 How do bad reviews and negative feedback affect you and how do you deal with them?
I WOULD LIKE TO SAY THAT I DON'T READ REVIEWS BUT I DO AND THE BAD ONES REALLY HURT WHILE THE (MOSTLY) GOOD ONES STOKE MY EGO. I DID HAVE ONE AWFUL, PAINFUL EXPERIENCE WITH MY FIRST BOOK, "THE COMPUTER TECHNOLOGY BIBLE." PRETTY SOON AFTER PUBLICATION I GOT AN EMAIL FROM SOMEONE IN THE UK OUTLINING EVERYTHING PAGE BY PAGE THAT WAS WRONG. I (STUPIDLY) WROTE BACK AND EXPLAINED THAT IT WAS WRITTEN FOR PSYCHOLOGISTS TO HELP THEM GET ON BOARD AND I USED DUMBED DOWN JARGON TO HELP THE PROCESS. A SERIES OF EMAILS WENT BACK AND FORTH AND GOT NASTIER AND NASTIER UNTIL HE CREATED A WEBSITE CALLED "THE COMPUTER TECHNOLOGY BIBLE IS A LEMON." AND THEN TO MAKE MATTERS WORSE HE SENT THE LINK TO EVERYONE ON MY CAMPUS, LITERALLY EVER PROFESSOR, ADMINISTRATOR AND STAFF MEMBER GOT THE LINK. I WAS MORTIFIED AND WENT INTO A TERRIBLE FUNK, EVEN TAKING TIME OFF FROM TEACHING SINCE I WAS CLEARLY DEPRESSED. YEARS LATER I REALIZED THAT I WAS AN EARLY VICTIM OF CYBERBULLYING AND NOW HAD FIRSTHAND EVIDENCE OF ITS DEVASTATING EFFECTS.
How has your creation process improved over time?
ONCE I DEVELOPED "MY STYLE" AND MY PROCESS I FOUND THAT I GOT MORE CREATIVE AS I ACCEPTED THAT THE PROCESS WORKED AND WRITING BECAME FUN. ALTHOUGH I AM LIKELY NOT GOING TO WRITE ANY MORE BOOKS I AM STILL WRITING PIECES FOR MY PSYCHOLOGY TODAY BLOG, HARVARD BUSINESS REVIEW AND OTHER INVITED LOCATIONS. THIS ALLOWS ME TO PONTIFICATE IN A SHORTER FORM.
What were the best, worst and most surprising things you encountered during the entire process of completing your book(s)?
BESIDES THE BULLYING I MENTIONED ABOVE, ONE OF THE WORST THINGS WAS WAITING FOR PUBLICATION ONCE THE MANUSCRIPT WAS SUBMITTED AND ACCEPTED. THE NORM APPEARS TO BE 5-6 MONTHS AND THAT WOULD DRIVE ME CRAZY. THE BEST THING OF ALL IS HAVING PEOPLE EMAIL AND TELL ME HOW MUCH THEY LOVED THIS OR THAT BOOK. THE MOST SURPRISING THING WAS THAT BOOKS ARE ENTREES TO SPEAKING ENGAGEMENTS AND THE MORE BOOKS I WROTE THE MORE ENGAGEMENTS I GOT AND ENDED UP TRAVELING ALL OVER THE WORLD SPEAKING TO A VARIETY OF AUDIENCES ON A VARIETY OF TOPICS. I PARTICULARLY LOVE TALKING TO STUDENTS OF ALL AGES AND THEIR PARENTS.
Do you tend towards personal satisfaction or aim to serve your readers? Do you balance the two and how?
I WRITE FOR MY AUDIENCE, PERIOD. I WANT THEM TO ENJOY THE READING AND NOT GET BOGGED DOWN IN TERMINOLOGY SO MOST OF MY BOOKS ARE WRITTEN IN THAT MORE FOLKSY STYLE. I WOULD BE REMISS IN SAYING I DON'T GET PERSONAL SATISFACTION CREEPING INTO THE WRITING PROCESS BUT THAT IS SO MUCH LESS IMPORTANT THAT I AM NOT EVEN SURE THAT IT RANKS EVEN CLOSE. I DO LIKE WHEN I HAVE A GOOD STORY TO TELL AND I FEEL THAT I TOLD IT WELL BUT THAT IS MORE FROM HAVING SOMEONE TELL ME THAT THEY LIKED IT.
What role do emotions play in creativity?
I WRITE PRETTY DISPASSIONATELY. I THINK IT IS THE RIGOR OF MY PROCESS OF GOING FROM DETAILED NOTES TO OUTLINE TO PAPER AND THE EMOTIONAL PART IS WHAT I CALL LETTING THE MATERIAL FILTER THROUGH MY BRAIN TO GENERATE THE OUTLINE AND GUIDE THE WRITING.
Do you have any creativity tricks?
I THINK THAT I ANSWERED THIS.
What are your plans for future books?
I THINK I ANSWERED THIS ONE TOO
Tell us some quirky facts about yourself
WOW! THERE ARE SO MANY THAT I DON'T KNOW THAT I CAN COVER THEM ALL. ON AN ACADEMIC LEVEL I ONLY WEAR T-SHIRTS (WITH SCIENCE QUOTES) AND BLUE JEANS AND WEATHER PERMITTING I WEAR SANDALS WHICH I SOMETIMES KICK OFF WHEN I LECTURE. I USE SWEAR WORDS WHEN I TEACH FOR DRAMATIC EFFECT AND I TELL JOKES (MOSTLY GROANERS I AM SAD TO SAY) AND WALK AROUND THE STAGE AND THE AUDIENCE. I DON'T SIT AT A DESK AT HOME EVER AS I HAVE A TREADMILL DESK THAT ALLOWS ME TO WALK AND WRITE AT THE SAME TIME. I AM AN AVID READER BUT ONLY MYSTERIES AND INTERNATIONAL INTRIGUE AT HOME AS I DO TOO MUCH NONFICTION READING AT WORK AND, QUITE HONESTLY, MOST NONFICTION PUTS ME TO SLEEP. I LIVE NEAR THE OCEAN AND LOVE TO BODY SURF. I TRY TO WATCH THE SUNSET EVERY NIGHT AND APPLAUD WHEN WE GET A GREEN FLASH. THEY ARE RARE BUT I SAW ONE ON MY FIRST DATE WITH MY FIANCEE (WE MET ON MATCH 16 YEARS AGO!). I AM A PRETTY GOOD COOK ALTHOUGH MY TWO SONS ARE BETTER COOKS THAN I AND MY DAUGHTERS ARE CATCHING UP QUICKLY. WHILE I AM COOKING I WILL BE SIPPING ON EITHER A TEQUILA, MEZCAL OR WHISKEY. I LOVE PLAYS AND MUSICALS IN PARTICULAR AND TRY TO GET TO NEW YORK FOR MY BIRTHDAY EACH YEAR. LAST YEAR WE SAW 9 SHOWS IN 8 DAYS. WE GO TO FILM FESTIVALS AND LOVE INDIE FILMS. THE PALM SPRINGS INTERNATIONAL FILM FESTIVAL IS MY CURRENT FAVORITE. I AM A NEWS JUNKIE ALTHOUGH IN THIS CLIMATE I FIND THAT WE HAVE TO ALTERNATE BETWEEN A NEWS SHOW (MSNBC AS I AM A FLAMING LIBERAL) AND SOMETHING FUNNY (COLBERT, DAILY SHOW, JOHN OLIVER, SAMANTHA BEE,ETC.) TO KEEP MY SANITY. I LOVE TO EAT AND LOVE ALMOST ALL GENRES OF MUSIC FROM 50S AND 60S ROCK TO HIP HOP. DON'T LIKE COUNTRY WESTERN HARDLY AT ALL. FOR A FEW YEARS IN THE LATE 1970S/EARLY 1908S I TAUGHT A CLASS ON THE SOCIAL HISTORY OF ROCK AND ROLL MUSIC. I AM A DIEHARD DODGER FAN AND WATCH MOST EVERY GAME ON MY PHONE (ARGHHHH FOR THIS YEAR'S COLLAPSE). ALTHOUGH I DON'T BRAG (MUCH) I HAVE DONE INTERVIEWS FOR NEARLY EVERY NEWSPAPER IN THE US AND ABROAD, A TON OF MAGAZINES, MANY WEBSITES AND HAVE BEEN ON TELEVISION QUITE A BIT, SOME LIVE, SOME TAPED ALTHOUGH I REALLY ENJOY LIVE. I HAVE BEEN INTERVIEWED BY ANDERSON COOPER ( ON 60 MINUTES​), KATIE COURIC, CHELSEA HANDLER AND OTHERS AND HAVE BEEN IN MANY DOCUMENTARIES (PLEASE DON'T WATCH "ADDICTED TO SEXTING" AS IT IS TERRIBLY EMBARRASSING). IS THAT ENOUGH QUIRKY?