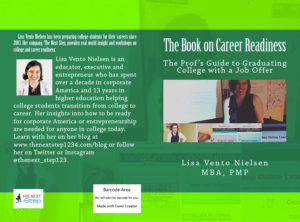 By Lisa Vento Nielsen
As someone who has taught in the college classrooms in the NYC area since 2003, I have seen first hand the struggle most students have to be "career ready" and I have worked on preparing real-world lessons to the classroom on resumes, interviewing and more.
Since July 2015, I have been posting about "University Advice" on my blog with tons of great advice and how-to's about transitioning for that big step from college to career. I realized quite quickly that I had too much to share to ever fit into the blog format so I began writing The Book on College Readiness  and published it in February 2016. I always envisioned this book being part of a series on College and Career Readiness and started working on the next installment as soon as the first book was published.
This installment, The Book on Career Readiness: The Prof's Guide to Graduating College with a Job Offer published just this weekend – just in time for me to celebrate my mother's day with an awesome professional achievement.
This book is the walking lesson book of what I have been living and breathing since 2003- the lessons to be ready as a college grad to hit the ground running, to be hired for your first professional role. It is the groundwork any student needs to be truly ready for interviewing, cover letters and presenting oneself as a "less risky" hire than some of the competition out there. No book of mine would be complete without lessons on using social media and branding yourself as a soon to be grad.
How can someone be "career ready". I think it is important to focus on graduating but to graduate with "distinction" – meaning with job experiences, internships, activities and more. I understand if you are reading this book at the 11th hour and provide some quick fixes to getting to "distinction". I also discuss building out networks – it really is who you know and how you know them that can help you create a career.
And to take a step back, I do not talk about finding a "job" per se but building a career – yes the title is about graduating with a job offer but my words of wisdom built off of 13 years of helping students just like you take that next step from academia into the real world is all about building skills and talents necessary to get you a CAREER.
In helping you build your career, I take you through building a resume and cover letters / emails for any situation with templates and how-to's to get this as perfect as possible. My insights into using LinkedIn and social media to build out your brand is worth the cost of the book alone – this is the key to finding your next step and continuing to build it out with your career as you grow and change.
There are three chapters on interviewing to cover all of the lessons I have learned in the past 20+ years as the interviewee and the interviewer with modern examples and lessons on using media training to shine in an interview held via any format.
I give you the game plan on what to do after the interview and also on finding opportunities and then negotiating and accepting job offers. I close with the skills of the future-  what you need to do to continue to grow and learn.
There is more to come with the next installment of  this book to walk through the exciting lessons on office politics and managing being professional even though the stereotype is that millennials like to "party" or do not like to "work".
Let me know what you think about this book on twitter – is there anything I should add in my next installment? Read about my other book in this series on nfreads.com here. Happy Hunting!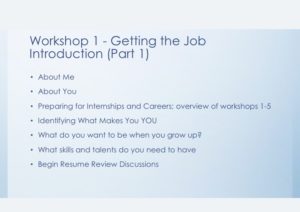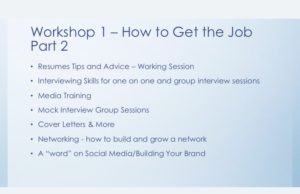 Lisa Vento Nielsen is an educator, executive and entrepreneur who has published 3 books with more on the way all about lessons for college and career readiness and entrepreneurial insights and advice. You can find her blogging and writing while helping her clients take their next steps in career and education. Her website is The Next Step and she is available for training, workshops and speaking engagements on her books and any other lessons from her blog. Schedule her today, here or hire her for your next step, here.